Article successfully added.
BANDELIN Stammopur DR 8 instrument disinfection
Instrument cleaning for ultrasonic bath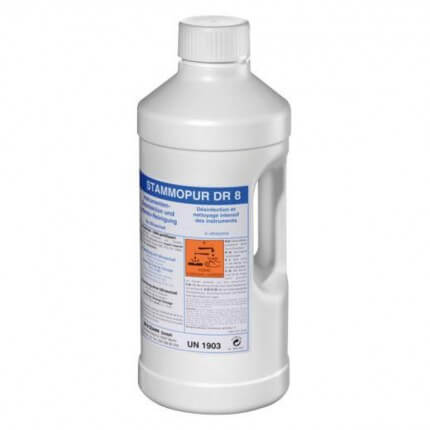 Item in stock
The delivery will take place between the
09.12.2023
and
13.12.2023
Stammopur DR 8 instrument disinfection from BANDELIN
Application instructions
Rinse parts thoroughly with water after preparation, dry, and sterilize if needed. Addition of cleaning-agents is not recommended. Ensure complete wetting of instrument-surfaces. Immerse hollow bodies in such a manner that the air escapes completely. Observe the manufacturer's instructions for application in ultrasonic baths. Do not prepare with warm water, do not heat at all.
General information
Stammopur dr 8 is meant for intensive cleaning with simultaneous disinfection, of instruments and accessories, in medicine and podological ultrasonic baths, and for wet storage. Stammopur dr 8 enables very low ultrasonic treatment times and therefore gently cares for sensitive equipment. Preparation is shortened, instruments are ready for reuse faster.
Material-compatibility
Stammopur dr 8 has a very high material-compatibility, is suited for parts made of metal (incl. alloys), glass, porcelain and plastics, and offers protection from corrosion for iron-metals. Observe usage recommendations by the firms Karl-Storz GmbH and Richard Wolf GmbH for endoscopes and their accessories.
instrument-disinfection and cleaning of ultrasonic baths
Effect-time in ultrasonic baths: 2% - 5 min.
for thermo-labile goods, i.e. endoscopes
Pictogram:
Signal word:
Danger

Hazard warnings:
H302 – Harmful if swallowed.
H314 – Causes severe skin burns and eye damage.
H317 – May cause an allergic skin reaction.
H334 – May cause allergy or asthma symptoms or breathing difficulties if inhaled.
H336 – May cause drowsiness or dizziness.
H361 – Suspected of damaging fertility or the unborn child .
H411 – Toxic to aquatic life with long lasting effects.

Safety instructions:
P280 – Wear eye protection/face protection.
P305+P351+P338 – IF IN EYES: Rinse cautiously with water for several minutes. Remove contact lenses, if present and easy to do. Continue rinsing.
P308+P313 – IF exposed or concerned: Get medical advice/ attention.
P310 – Immediately call a POISON CENTER/doctor.