Article successfully added.
HARTMANN Bacillol 30 Sensitive Tissues
Skin-compatible surface disinfection for medical surfaces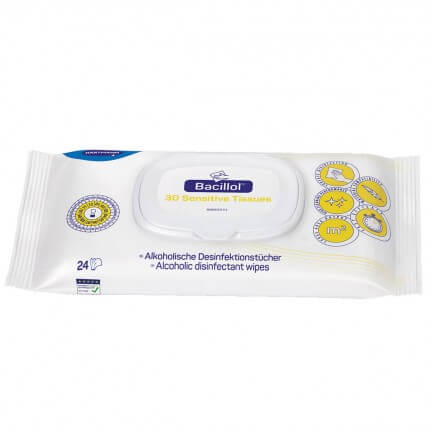 Article ID: 126819
Package: 24 piece(s)
Delivery 11 to 14 days
You will receive your goods between the
22.06.2023
and
26.06.2023
Bacillol 30 Sensitive Tissues from HARTMANN
HARTMANN Bode Bacillol 30 Sensitive Tissues are ready-to-use disinfectant wipes for all sensitive surfaces. They are characterized by particularly short contact times and a high yield. The ingredients are also selectively skin-friendly and suitable for sensitive users.
Product details
Rapid disinfection wipes for all surfaces
Ready-to-use wipes, soaked with Bacillol 30 sensitive
Good cleaning performance and short contact times
Suitable for alcohol-sensitive surfaces
Can be used without gloves
Aldehyde-free
Without dyes and perfume-free
Soft cloths made of high-quality, tear-resistant fleece
Size per wipe: L 18 x W 20 cm
Spectrum of activity: Bactericidal / levurocidal (EN 13727/EN 13624/EN 16615/VAH); Limited virucidal (EN 16777); Limited virucidal (incl. HBV, HIV, HCV) (EN 14476/DVV); Tuberculocidal and mycobactericidal (EN 14348); Limited virucidal PLUS (EN 14476) (incl. Norovirus, Adenovirus, Rotavirus)
Composition Bacillol 30 sensitive: ethanol 140 mg/g, propan-2-ol 100 mg/g, propan-1-ol 60 mg/g, amines, N-C10-C16-alkyltrimethylenedi-, reaction products with chloroacetic acid 2 mg/g
24 wipes in resealable flowpack, individually removable
In some countries this product is registered as a biocide. Use with caution. Read label and product information before use.
Effective against germs - sensitive to skin and material
Optimum efficacy with short action times
Bacillol 30 Sensitive offers up-to-date efficacy in accordance with the latest EN standards for medical surfaces.
All HARTMANN Bode disinfectants meet the requirements for limited virucidal activity and can be used against the corona virus SARS-CoV-2.
Within a few minutes, Bacillol 30 Sensitive is effective against viruses, bacteria and fungi - against corona viruses, just 30 seconds is sufficient.
Certified skin compatibility
Bacillol 30 Sensitive contains 60% fewer surfactants than Bacillol 30 and leaves particularly little residue. A dye- and fragrance-free composition without aldehydes is gentle on even sensitive skin and can be used without gloves.
The ingredients are well tolerated even with daily use and can also be used in food areas.
The skin-friendly formulation is dermatologically tested and certified by SGS Institut Fresenius. The special compatibility of Bacillol 30 Sensitive has also been recognized by the European Centre for Allergy Research Foundation (ECARF) Seal of Quality for allergy- and asthma-friendly products.
Very good material compatibility
Sensitive displays and non-invasive medical devices benefit from the patented composition of the cleaning agent. Bacillol 30 sensitive offers outstanding material compatibility - even on surfaces sensitive to alcohol.
Couch covers made of artificial leather, tablets, control panels and keyboards on medical devices as well as sensitive surfaces made of aluminum, Macrolon or Plexiglas can be disinfected gently and efficiently. The tissues are economical in use and wet the surfaces thoroughly - for more hygiene in all areas.
Intended use
Surface disinfectants and general biocide products
Scope of delivery
1 package HARTMANN Bacillol 30 Sensitive Tissues à 24 pieces
Pictogram:
Signal word:
Warning

Hazard warnings:
H226 – Flammable liquid and vapour.
H319 – Causes serious eye irritation.

Safety instructions:
P210 – Keep away from heat, hot surfaces, sparks, open flames and other ignition sources. No smoking.
P305+P351+P338 – IF IN EYES: Rinse cautiously with water for several minutes. Remove contact lenses, if present and easy to do. Continue rinsing.
P337+P313 – If eye irritation persists: Get medical advice/ attention.
P501 - Dispose of contents / container in accordance with local / regional / national / international regulations.