Article successfully added.
B. Braun Wipe ECO non-woven tissues
Refillable dispenser system for surface disinfection - Fleece roll ECO with 120 wipes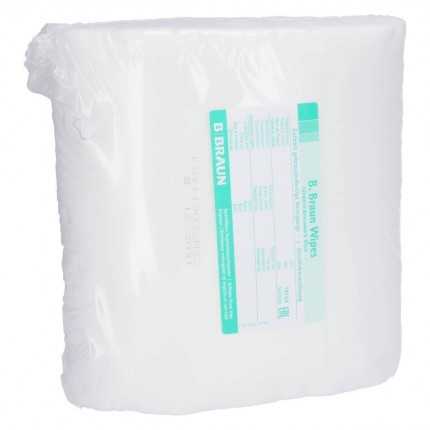 Article ID: 118287
Package: 120 piece(s)
Item in stock
The delivery will take place between the
07.10.2023
and
11.10.2023
Wipe ECO non-woven tissues from B. Braun
The B. Braun Wipes are lint-free, non-woven wipes for disinfecting surfaces. The dry wipe roll fits into the corresponding container of the B. Braun Wipes dispenser system. The non-woven wipes are soaked by the user with a disinfectant solution and can then be used for 4 weeks. When the non-woven wipes have been used up or the expiry date of the solution has been reached, the dispenser system can be filled with new wipes and disinfectant.
Product details
Refillable wipes dispenser system for surface disinfection
Reusable containers for filling with wipe roll
In mini version for small requirements or in bucket format for large surfaces
Wipe roll is delivered dry – for soaking with individual disinfectant solution
Absorbent and lint-free fleece wipes, tearable individually
Tested for use with B. Braun products: Hexaquart pure, - XL, - plus lemon fresh; Melsept SF; Meliseptol, - rapid, - Foam pure
Economical consumption of wipes and application solution
Service life: max. 28 days
Available in different versions
Economical and environmentally conscious
The refillable dispenser system for disinfectant wipes is an economical way to implement a professional hygiene concept according to individual needs. The dry wipe rolls are made of PET synthetic fibre and fit into B. Braun's Wipes system containers.
The Wipes system is filled on site with fresh disinfectant solution and can be used with cleaning agents tested by the manufacturer. This way, there are always enough cleaning wipes available for 4 quick surface disinfection for 4 weeks – to protect against infections in all medical facilities. The non-woven wipes are easy to tear off individually from the roll and release the absorbed disinfecting agent reliably onto the surface to be cleaned. After each removal, the container can be tightly closed again, so that the disinfectant remains fresh.
After expiry of the shelf life or when the wipes are used up, the Wipes system can be refilled: The refill box and the dispenser bucket can be used several times and be refilled with the matching refill fleece roll – this saves money and packaging waste.
One dispenser system in two sizes
Wipes mini
Dispenser bucket mini accepts fleece roll mini ECO
Roll with 60 wipes
Quality of wipes: 50 g/m²
Wipes dimensions: 15 x 20 cm
Quantity of disinfectant solution: approx. 500 ml
Wipes
Dispenser bucket accepts fleece roll ECO and fleece roll Premium
Roll with 120 (ECO) / 100 (Premium) wipes
Quality of wipes: 50 g/m² (ECO); 65 g/m² (Premium)
Wipes dimensions: 19 x 36 cm
Quantity of disinfectant solution: approx. 2,500 ml
Package contents
1 pack of B. Braun Wipes in the selected version
The disinfectant solution is not included in the package contents.