Article successfully added.
B. Braun Vasco OP Sensitive latex surgical gloves
Sterile and powder-free - Size: 5.5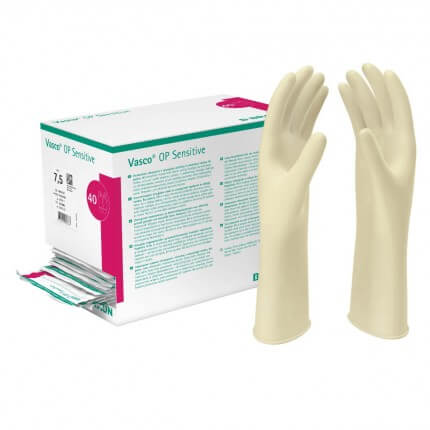 Article ID: 125151
Package: 40 pair(s)
Item in stock
The delivery will take place between the
09.10.2023
and
12.10.2023
Vasco OP Sensitive latex surgical gloves from B. Braun
Clean work in the operating theatre. The Vasco OP Sensitive surgical gloves have a fully anatomical shape with curved fingers and fit your hand quite comfortably. This way, they provide a natural feeling, which allows you to work cleanly. The disposable gloves are made of natural latex and have a smooth inner coating that makes them easier to put on. You can choose among different sizes of surgical gloves.
Item details
Surgical gloves
Fully anatomical shape with preformed fingers
Material: Natural latex
Micro-rough, silicone-treated surface
Polymer-coated inner surface, powder free
Packed sterilely in pairs
With beaded cuff
Right/left pair in paper envelope and peel pouch
The surgical gloves are available in different sizes
Vasco OP Sensitive – Physical properties
Wall thickness (palm): 0.21 mm
Wall thickness (cuff): 0.175 mm
Strength at break during shelf life: 20 N (before ageing), 14 N (after ageing)
Elongation: 845 % (before ageing), 840 % (after ageing)
Tensile strength: 32 MPa (before ageing), 25 MPa (after ageing)
Package contents
1 pack containing 40 pairs of Vasco OP Sensitive surgical gloves in the desired size
Return policy
This item is not eligible for returns.

For consumers, the right of withdrawal does not apply to contracts for the delivery of sealed goods that are not suitable for return for reasons of health protection or hygiene if their seal has been removed after delivery.