Article successfully added.
MELAG Card Writer for Melaflash
Card writer for documenting sterilizations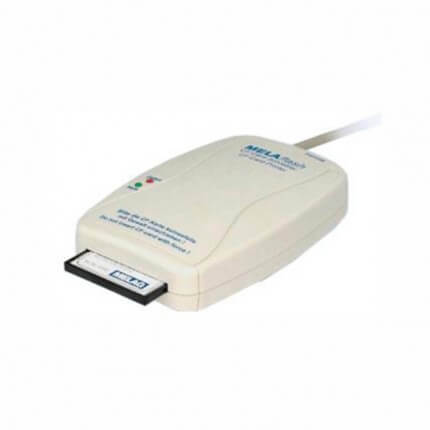 SKU: 293509
Package: 1 piece(s)
Item in stock
The delivery will take place between the
07.12.2023
and
11.12.2023
Card Writer for Melaflash from MELAG
Practices and clinics must document their infection prevention measures, as required by the medical product operator regulations, but in the first place to ensure that there are no gaps in this regard in the practice's or clinic's instrument conditioning programs.
connects to Vacuklav 23 B+
24 B+ Euroklav/Cliniklav including card and reader
As part of releasing conditioned instruments for use, no gaps may exist in documenting the conditioning cycles may. This can be done manually, of course, however, at the cost of proportional effort by staff. To minimize the amount of time spent on this activity, this product offers automatic documentation for autoclaves of the Profi model series, the Cliniklav 25 as well as the autoclaves of the S class and the MELAtronic ENl. This is accomplished over a standard built-in serial RS 232 interface for connecting the MELAflash CF Card Writer, as follows:

With the MELAflash CF-Card-Writer connected to the serial port of one of a compatible autoclaves, the autoclave uploads its program cycle data to the MELAflash CF-Card inserted into the MELAflash CF Card Writer. To transfer the data to the practice's PC, the CF card is inserted into the MELAflash card reader, connected to the PC via USB cable. The data records are now ready to be worked on with the MELAview documentation software.
It is equally feasible to hook up the protocol printer, MELAprint42, directly to the autoclave or to connect the autoclave directly to the practice's PC. Selecting, storing and processing the protocols in that case requires the MELAview documentation software.

The following information is stored on the CF card:

program selected
date, time, batch number
serial number of the practice's autoclave
existing vacuum, pressure and temperature
confirmation of successfully executed program
unacceptable deviations
Marking the sterilized instruments prior to releasing them and being able to track the instruments used on a patient to a sterilization batch can be simplified by marking the sterilization packages with the MELAdoc label printer. For proof of a successful sterilization in a "Class B" autoclave, MELAG offers a helix testbody system.

Connecting a MELAnet Box to the autoclave's serial port ties the latter into the practice's network. Then the sterilization protocols can automatically be uploaded to the practice's PC.
| | |
| --- | --- |
| Dimensions of the CF card writer | 7.5 x 11.5 x 2.5 cm (w x d x h) |
| Current supply | 5 volts / DC / 6 watts |
Product contents
MELAflash CF Card Writer
power cord
autoclave connecting cable
MELAflash CF card
MELAflash card reader