Article successfully added.
Emag Emmi 30HC ultrasonic cleaner
Ultrasonic cleaner for instruments with 3 l capacity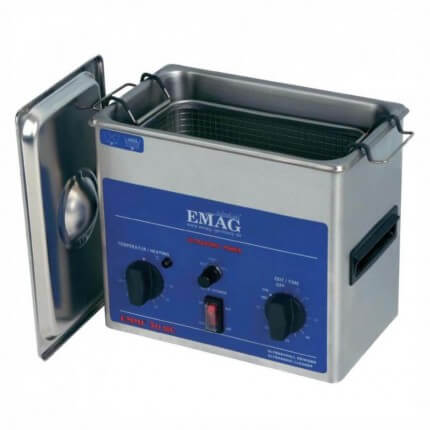 SKU: 200910.2
Package: 1 piece(s)
Item in stock
The delivery will take place between the
12.12.2023
and
15.12.2023
Emmi 30HC ultrasonic cleaner from Emag
The Emag Emmi 30HC professional ultrasonic cleaner cleans your medical instruments in a stainless steel oscillating tank with built-in heating and timer in continuous operation. The cleaner uses ultrasound to thoroughly and quickly remove any dirt from your instruments, thus enabling maximum hygiene.
Cleaning device ultrasonic Emmi 30HC
incl. basket and lid
made of high quality stainless steel
Capacity 3 l
Ultrasonic device for cleaning medical cutlery, glasses, jewelry, etc.
built-in power regulator (50, 75 or 100 %)
digital timer (duration of ultrasonic cleaning between 1 - 60 min, depending on degree of contamination)
for thorough cleaning in ultrasonic bath between 35 - 80 °C
Application
The Emag Emmi 30HC ultrasonic cleaner is ideally suited for cleaning medical and occupational health instruments. Ultrasonic cleaning causes the cleaning liquid to vibrate at high frequency, thus removing even the smallest particles of dirt. Thus, the device is used for thorough, yet gentle cleaning of your instruments, even with a high degree of contamination.
Simply place the instruments to be cleaned in the basket provided and fill the ultrasonic cleaner with up to 3 liters of cleaning liquid or concentrate. Then use the timer to set the desired cleaning time and the heating controller to set the temperature.
Technical data
| | |
| --- | --- |
| Tub inner dimensions: | 240 x 135 x 100 mm |
| Tub outer dimension: | 265 x 165 x 240 mm |
| Tub capacity: | 3,0 l |
| Ultrasonic power: | max. 200 W |
| Power regulator: | 50 / 75 / 100 % |
| digital timer: | 1 - 60 min. (continuous operation) |
| Heating power: | 300 W |
| Heating control: | 35 - 80 °C |
The Melag company has been manufacturing products for medical practice hygiene since 1951. In this way they support medical development and the pharmaceutical industry. Melag is considered the largest producer of practice sterilizers and thermal disinfectors. The company focuses on consistent specialization and the highest quality in all areas.