Article successfully added.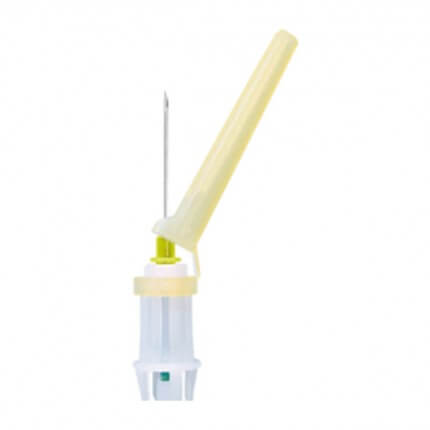 Article ID: 155959
Package: 50 piece(s)
Item in stock
You will receive your goods between the
10.06.2023
and
14.06.2023
Safety Cannulle from Sarstedt
The Sarstedt Safety Needle was specially designed for critical blood collection to stop the risks of needlestick injuries. This means that used needles never again have to be transported and disposed of without protection. Nevertheless, blood collection with safety cannula and S-Monovette is no more time-consuming than usual.
Sarstedt safety needles are the safe alternative to standard monovette needles. The special safety cannula is equipped with a safety needle guard that protects not only puncturers but also patients from accidental needle sticks. The high-quality protective cap is removed from the safety needle before blood is drawn, but remains securely attached to it. Afterwards, the needle guard can be easily replaced on the BE cannula and safely transported and disposed of.
The safety cannula is suitable for both forms of monovette blood collection. You can choose whether you prefer the aspiration or vacuum technique. Both collection principles have their advantages, both are safe with the Safety Cannula and both are extremely simple and fast.
Product details
Safety cannulae with protective cap (safety needle protection)
easy to connect with S-monovettes thanks to three-cam locking system
immediately ready for use - does not need to be locked with needle holders
effective protection against infections due to contaminated needle holders
Two blood collection techniques - safe thanks to safety cannulae
The aspiration technique is particularly suitable for gentle blood sampling. Here, the safety cannula is inserted together with the S-monovette and the vein is punctured. By slowly withdrawing the monovette plunger, the blood flows into the S-monovette. Then first the monovettes and finally the safety cannulas are withdrawn from the vein and the monovette plunger is broken off.
With the vacuum technique, the procedure is a little different because a vacuum is created first. This is done by first pulling the piston of the S-monovette and breaking it off. Only then does the safety cannula come into play. The vein is punctured as usual with the safety cannula and the already evacuated monovette is filled with the blood. Finally, the monovettes are released first, then the safety cannulae. The advantage: A completely new vacuum is immediately available when needed.
Scope of delivery
1 pack of Sarstedt safety cannulas à 50 pieces in the selected version
Return policy
This item is not eligible for returns.