Article successfully added.
BD Vacutainer Luer-Adapter
Luer attachment for the BD Vacutainer blood collection system single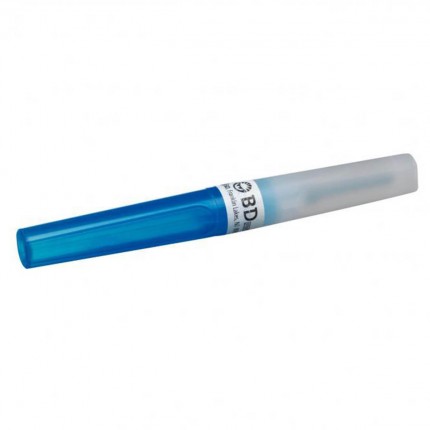 SKU: 188008
Package: 100 piece(s)
Item in stock
The delivery will take place between the
09.12.2023
and
13.12.2023
Vacutainer Luer-Adapter from BD
The Vacutainer Luer adapter is an attachment for the BD Vacutainer system for blood collection from catheters, perfusion sets or for combination with Luer cannulas. The adapter connects the Vacutainer disposable holder to a Luer connector, allowing blood to be drawn without the need for another venipuncture. The integrated valve makes it possible to fill several tubes in succession without blood escaping from the system.
Product details
Accessories for the Vacutainer blood collection system
Can be used together with the Vacutainer disposable holder
For blood collection from catheters and perfusion sets
With valve for filling several tubes in succession
Sterile
Vacutainer blood collection system - The details
The BD Vacutainer blood collection system enables the collection of venous blood samples with one puncture directly into closed tubes, which are prepared with an appropriate additive depending on the examination parameters. Simple, patient-friendly use and maximum safety without blood contact for the user make the Vacutainer system an indispensable aid in preanalytics. Sources of error are minimized by the standardized collection conditions.
The Vacutainer Luer adapter is screwed into the Vacutainer disposable holder with the safety valve and placed on a Luer connection on perfusion sets or catheters.
Blood is collected using the sterile Vacutainer tubes, which are pushed into the holder. The cannula in the safety valve pierces the rubber stopper of the Vacutainer. The precisely dosed vacuum of the sample tube gently draws in the blood and the Vacutainer automatically fills to the correct volume.
The Vacutainer tube can be removed from the disposable holder without rotation. Due to the integrated valve, no blood escapes when changing the tube. The Vacutainer Luer attachment for the BD blood collection system is a reliable product that stands for special safety when collecting venous blood.
Scope of delivery
1 pack of BD Vacutainer Luer adapters of 100 pieces each
Return policy
This item is not eligible for returns.

For consumers, the right of withdrawal does not apply to contracts for the delivery of sealed goods that are not suitable for return for reasons of health protection or hygiene if their seal has been removed after delivery.
Brand: BD