Article successfully added.
B. Braun Omnican Lance Soft Lancets
with small diameter of 0.33 mm (28G), sterile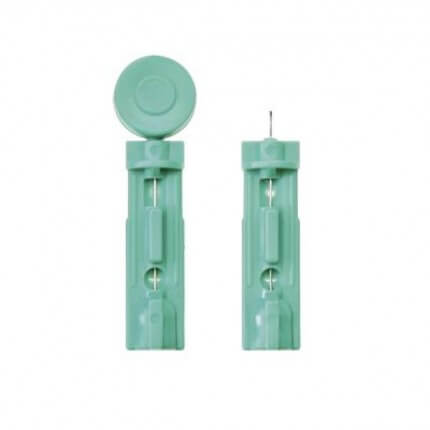 Article ID: 171076
Package: 200 piece(s)
This item is not available
Omnican Lance Soft Lancets from B. Braun
These sterile single-use lancets coated with silicone oil are used for capillary blood sampling for blood glucose measurement. Thanks to 3-facet grinding, the fine needle ensures ideal blood flow and minimal pain. This guarantees the gentlest possible blood collection! The Omnican Lance Soft lancets in combination with the Omnilance insertion aid allow the setting of 5 different insertion depths.
Product details
Silicone-coated 3-facet cut
Provides gentle insertion with maximum blood flow
Protective cap guarantees the sterility of the lancet - even during transport
Ribbed design
Standard lancet body design
Compatibility with various lancing devices
Versatile compatibility
Compatible with lancing devices from B. Braun (Omnilance), Abbott (EasyTouch, Freestyle, Freestyle Light), Bayer (Microlet, Microlet 2), Becton Dickinson (BD Optimus), LifeScan (One Touch UltraSoft), Menarini (Glucoject Dual), Owen Mumford (Autolet Impression), Sanofi Aventis (BGStar), Ypsomed (Pura).
Omnican Lance Soft lancets are sterile, single-use devices. If used more than once, they will become dull and unsterile. Therefore, for your own safety, use a fresh lancet for each blood draw. In addition, the puncture site should be changed each time to minimize callus formation.
Important note: Always dispose of used lancets properly to avoid injury or contamination of others.
Scope of delivery
1 pack of B. Braun Omnican Lance Soft lancets, 200 pieces each
Return policy
This item is not eligible for returns.

For consumers, the right of withdrawal does not apply to contracts for the delivery of sealed goods that are not suitable for return for reasons of health protection or hygiene if their seal has been removed after delivery.