Article successfully added.
syringe for U-40 insulin, with integrated canola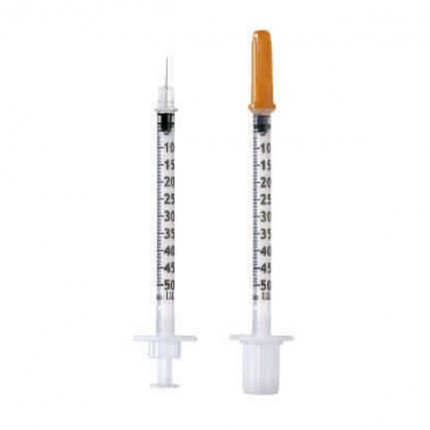 Order number: 152577
Package: 100 piece(s)
Omnican insulin syringes from BBraun
All variants of Omnican insulin syringes are made from latex-free materials. The integrated plunger-backstop prevents the plunger from sliding out of the syringe's cylinder, and therefore loss of medicine. Large, well-readable scaling ensures safe dosage. Air bubbles can easily be noticed through the syringe's crystal-clear body.

Cannula diameter is only 0,30 mm. To avoid accidental injections in the muscle, all syringes are also available with a short 12 mm cannula. Barely noticeable puncture through precise 3-facet cut and silicone-coated cannula. Predictive caps at the ends of the syringe guarantee sterility.
dark blue large scaling
rich in contrast and smear-proof
easy-gliding piston stop with double gasket
for slow drawing in and injecting
for smallest dosages
0,30 mm Ø at 12 mm
problem-free drawing up to max. volume
PVC-free
Return conditions
This article is excluded from withdrawal.