Article successfully added.
B. Braun Omnifix insulin syringe
syringe for insulin injections 1ml/40 I.U.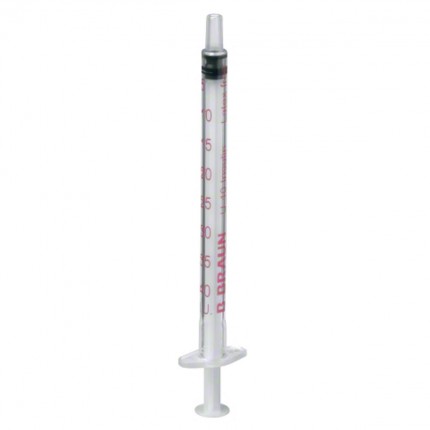 Article ID: 115110
Package: 100 piece(s)
Omnifix insulin syringe from B. Braun
For the therapy of diabetes mellitus, insulin is injected into the subcutaneous fat tissue to regulate the uptake of glucose. The Omnifix 40 Solo from BBraun was developed for the subcutaneous injection of U-40 insulin. The disposable insulin syringe's highly transparent barrel lets you easily see air bubbles, the graduation is easy to read, and the plunger stopper with smooth-running seal is designed to slowly draw up the smallest amounts. For diabetes patients, this means safe and accurate dosing of insulin.
Omnifix 40 Solo - At a glance
3-part disposable syringe for U-40 insulin
Large, easy-to-read scale for accurate dosing
Crystal clear cylinder
Piston with double sealing ring
Plunger stop for easy inflation to maximum volume
Centric Luer cone
Material insulin syringe: PP, PS, RS, silicone oil
Latex-free, PVC-free, DEHP-free
Size: 1 ml / 26G x 12 mm
Graduation: 1 I.U. (1 IU)
Individually sterile packed syringes according to ISO 7886-1
Scope of delivery
100 BBraun Omnifix 40 Solo syringes
Return policy
This item is not eligible for returns.