Article successfully added.
Vaginal specula in various sizes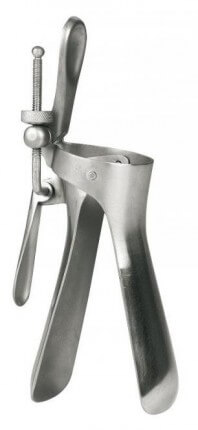 SKU: 159329
Package: 1 piece(s)
Item in stock
The delivery will take place between the
08.12.2023
and
12.12.2023
Cusco vaginal specula from Zepf Medical Instruments
Zepf Cusco vaginal specula - At a glance
Zepf Cusco speculum made of metal
stainless
Polished surface
easily washable, disinfectable, sterilizable
high safety during use
flexible safety lock
available in different sizes
perfect appearance
Zepf vaginal speculum according to Cusco - in different sizes
The Cusco Vaginal Speculum is one of the most common vaginal specula. These gynecological specula are available in different sizes with a beak length of the Cusco duckbill from 75 mm to 100 mm. The beak length width ranges from 17 mm to 35 mm. Visual examination of the vagina and cervix, as well as sterile smears and a general gynecological examination are safely and comprehensively performed with this gynecological instrument from Zepf. The Cusco Vaginal Speculum features a polished, stainless steel surface that makes it easy to keep the speculum sterile for safe viewing of the vagina and cervix.
Zepf Cusco specula - the reliable ones
With the Cusco speculum from Zepf you are on the "safe side", because these metal instrument specula are made of high-quality material and have a smooth polished surface. The rounded edges of the therapy metal instruments specula allow the user gentle insertion and thus increased comfort for hygienic medical treatment. As a gynecological examination device, the Cusco specula provide the best conditions for visual examination of the vagina and cervix. Thus, the vaginal speculum allows sterile smears of the cervix, but also the safe and quick insertion of other instruments through the cervix. Thus, thanks to Cusco speculum, a comprehensive view of the uterus can be obtained and it simultaneously serves to insert the test sticks into the uterus during the examination smear collection. In addition, they also allow a perfect view of the vaginal walls thanks to the large spreading ability.
The features of the "Cusco
"Speculum" is Latin and ultimately means not much more than "mirror" and as we know, we call many instruments mirrors. The vaginal speculum can have different shapes, but it is generally used to hold up the vaginal vault in order to inspect the vagina. The Cusco speculum by Zepf can be used to inspect the vagina, but also to clearly see the cervix and clearly show the portio. The Cusco speculum is stainless and has a selectable length of the forceps from 75 to 100 mm (XS to L). The width of the vaginal specula varies between 17 and 35 mm. The vaginal specula instruments are therefore available in 4 different sizes.
Scope of delivery
Vaginal speculum according to Cusco in the selected size
| | |
| --- | --- |
| Product Type: | Reusable Instruments |