Article successfully added.
Single-use kidney bowl, made of cardboard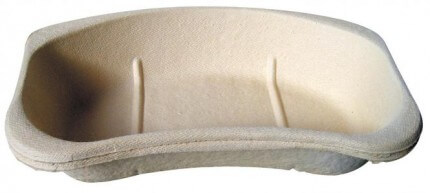 Order number: 152670
Package: 300 piece(s)
Item in stock
You will receive your goods between the 10.12.2022 and 14.12.2022
| Quantity | Price per unit | Price per unit (gross) | Reference price | Reference price (gross) |
| --- | --- | --- | --- | --- |
| To 2 | €17.75 * | €21.12 * | €0.06 * / 1 piece(s) | €0.07 * / 1 piece(s) |
| From 3 | €16.55 * | €19.69 * | €0.06 * / 1 piece(s) | €0.07 * / 1 piece(s) |
| From 10 | €14.95 * | €17.79 * | €0.05 * / 1 piece(s) | €0.06 * / 1 piece(s) |
On-time Delivery on Christmas
Order now until the end of the countdown and receive your goods on time for Christmas.
Kidney Bowl, Environementally-friendly from AMPri
The cardboard kidney dishes are used as collecting vessels for liquids or for depositing used instruments. The practical aid for everyday use in the practice and clinic is disposed of after single use.
Disposable cardboard kidney dishes, non-sterile
Collection container for bodily excretions or smaller waste in the medical field
Intended for short-term use
Environmentally friendly
Stable and versatile
Made of molded fiber material (paper)
Non-sterile, not suitable for sterile instruments / utensils for the surgical area
Kidney shaped tray as a consumable
These kidney-shaped trays can collect liquids, vomit or even smaller waste in the medical field. You don't have to clean the trays, because they are disposed directly after use. So contaminated kidney dishes can be easily disposed of and you save the time-consuming cleaning in an ultrasonic bath or sterilizer. You can simply use a fresh kidney dish for each patient.
Cardboard kidney dishes - the environmentally friendly alternative
Cardboard kidney dishes can be used as non-sterile disposable kidney dishes and are particularly environmentally friendly and stable. A cardboard kidney dish is intended for short-term use and can be used in the hospital, doctor's office, ambulance service or in other medical and non-medical areas to hold bodily excretions and/or as a collection container for smaller waste. These bowls made of pressed paper fibers are not sterile and therefore must not be used for sterile instruments / utensils for the surgical area.
Kidney dishes - the "silent" helpers
Not everyone immediately thinks of kidney cups when it comes to medical matters - certainly not disposable kidney cups made of cardboard. But such a kidney-shaped container is more important and practical than one might think. As a container for vomit and other bodily excretions, the kidney cup can be used, but also as a container for smaller waste in non-sterile areas. Since these kidney cups are made of cardboard, it is mandatory to dispose them after the single use.
Scope of delivery
300 disposable kidney cups non-sterile made of cardboard