Article successfully added.
Highly elastic film for covering all laboratory vessels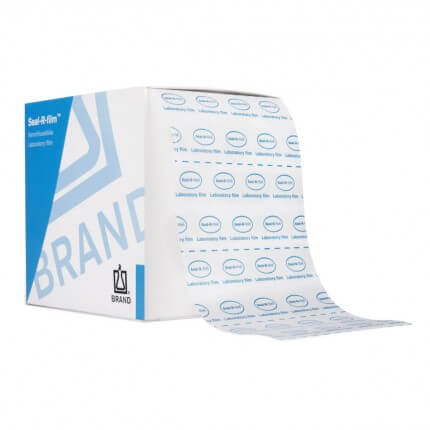 Order number: 126405
Package: 38 m
Delivery 10 to 13 days
You will receive your goods between the
14.04.2023
and
18.04.2023
Seal-R-film Closure film from BRAND
The BRAND Seal-R-film is an elastic sealing film that can be stretched to three times its length. The film conforms to irregular shapes without wrinkles and adheres securely. As a result, the polymer film provides an airtight cover for laboratory glassware and Petri dishes. Seal-R-film is chemical resistant and prevents drying, oxidation and contamination of samples and liquids. The stretch film can be cut to size sparingly and each roll is batch-labeled for complete traceability.
Product details
Stretch film for sealing laboratory vessels
Protects against spillage, evaporation and contamination
300 % Stretchable and vapor-tight
Adapts to all surfaces
Resistant to inorganic acids/bases, salt solutions and alcohols
Batch marking on each roll
For precise and economical cutting to size
Dimensions: L 38 m x W 10 cm
Composition: mineral wax and polyolefin polymer
Roll in dispenser box
Physical properties
Thickness: 0,14 +/- 0,02mm
Elongation (25°C): 300%
Tensile strength (25°C): 1.5 MPa
Toxicity: non-toxic
Continuous use temperature: -20°C to 46°C
Melting temperature: > 66°C (151°F)
Chemical Resistance:

Hydrochloric acid (HCl) 36.5%
Sulfuric acid (H2SO4) 98%
Nitric acid (HNO3) 95% g (brown coloration)
Hydrogen peroxide (H202) 30%
Caustic soda (NaOH) 22%
Ammonia (NH3) 28
Sodium chloride (NaCl) 20%
Potassium permanganate (KMnO4) 5% (brown coloration)
Iodine solution 0.1 mol/l g (brown coloration)
Methanol
Ethanol
Isopropanol

Gas permeability (24h/room temperature/pressure 0.1 MPa):

CO2 (carbon dioxide) < 1000 cm³/m²
O2 (oxygen) < 350 cm³/m²
Water vapor < 0.8 g/m²
Scope of delivery
1 roll of BRAND Seal-R-film sealing film