Article successfully added.
WiduMed Ready-to-use culture medium
Agar culture media for microbiological cultures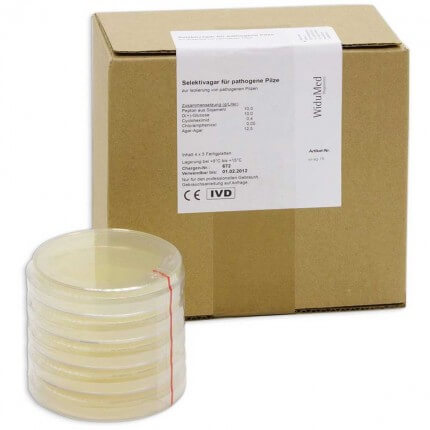 Article ID: 116865
Package: 20 piece(s)
Delivery 9 to 12 days
You will receive your goods between the
19.06.2023
and
22.06.2023
Ready-to-use culture medium from WiduMed
WiduMed culture media are ready-to-use agar plates for the cultivation of microorganisms such as bacteria and fungi. Ready-to-use solid agar culture media are supplied fresh in Petri dishes and are suitable for various applications.
Product details
Pre-prepared culture media for microbiology
In round Petri dishes with lid
For cultivation of microbiological samples
High quality standards for optimal results
Storage temperature: 8 - 15 °C
Package size: 4 x 5 pieces, sterile sealed
Not suitable for clipping tests
Available in different versions
The different culture media
Selective agar for pathogenic fungi: For isolation and identification of fungi, especially conidia, optimal growth conditions of the growth forms important for diagnostics
Candida selective agar according to Nickerson: For isolation and differentiation of fungi (Candida and other yeasts) by brown-black staining, inhibition of accompanying flora by bismuth-sulfite indicator
Sabouraud-Glucose 2 % agar: For isolation and identification of pathogenic molds, dermatophytes and yeasts, inhibitor-free culture medium with high glucose concentration
Dermatophyte agar according to Taplin: For isolation and differentiation of dermatophytes, unmistakable color change for differentiation from other fungi
Fungal agar according to Kimmig: For the cultivation of fungi (Candida albicans), low pH-value
Müller-Hinton Agar: For testing the sensitivity of pathogens to antibiotics and sulfonamides, as well as for cultivating Neisseria and Moraxella
MacConkey Agar: For isolation of bacteria such as Salmonella, Shigella and coliform bacteria, gram-positive flora is largely inhibited
Scope of delivery
20 WiduMed ready-to-use culture media in the selected version
Return policy
This item is not eligible for returns.
Further information