Article successfully added.
Hecht-Assistent
Mortar or Pestle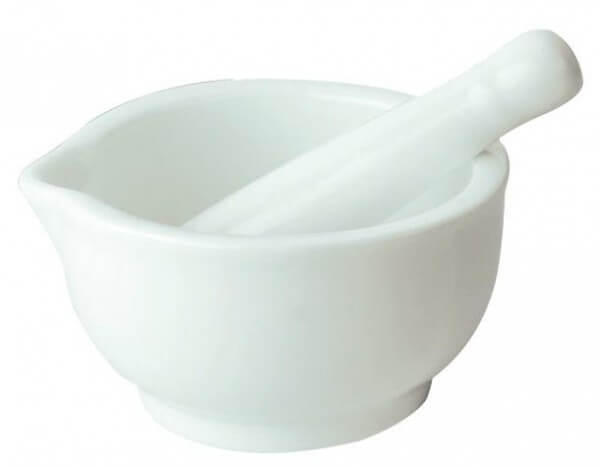 Order number: 111969
Package: 1 piece(s)
ready for shipment
You will receive your goods between the 22.02.2020 and 26.02.2020
Mortar or Pestle
Zum Zerreiben pulverförmiger Substanzen sind Reibschale und Stößel unentbehrlich. In der Medizin, der Pharmazie, in der Pflege – aber auch in der Tiermedizin, bei der Aromatherapie und sogar in der Küche werden Mörserschalen benötigt. Die raue Porzellan Oberfläche sorgt für besonders kleine Teilchengrößen beim Zerkleinern von Medikamenten und anderen Substanzen. Die Größe von Reibschale und Pistill müssen dabei aufeinander abgestimmt sein, damit beim Zerkleinern eine möglichst große Fläche genutzt wird.
Mörser mit Ausguss aus Porzellan
Innen rau, außen glasiert
Mörser Durchmesser ca. 60 mm, Volumen ca. 20 ml, Höhe ca. 32 mm
Mörser Durchmesser ca. 80 mm, Volumen ca. 70 ml, Höhe ca. 40 mm
Mörser Durchmesser ca. 100 mm, Volumen ca. 100 ml, Höhe ca. 50 mm
Pistillen mit rauer Reibfläche aus Porzellan
Pistill zum 6 cm Mörser: Länge ca. 100 mm, Kopfdurchmesser ca. 24 mm
Pistill zum 8 cm Mörser: Länge ca. 115 mm, Kopfdurchmesser ca. 24 mm
Pistill zum 10 cm Mörser: Länge ca. 135 mm, Kopfdurchmesser ca. 30 mm
Lieferumfang
1 Mörser in der gewählten Größe
oder
1 Pistill in der gewählten Größe
Customer assessment ⦁ Mortar or Pestle