Article successfully added.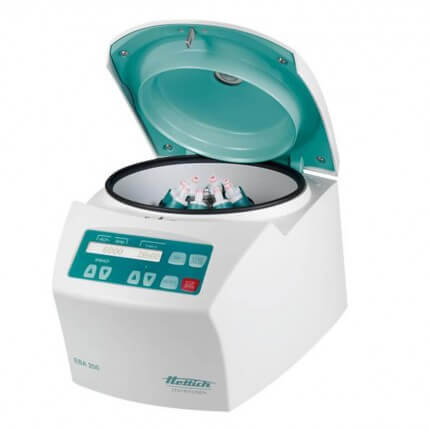 SKU: 116965
Package: 1 piece(s)
Item in stock
The delivery will take place between the
07.12.2023
and
11.12.2023
EBA 200 centrifuge from Hettich
The EBA 200 centrifuge is perfectly suited for use in medical practices. The device is a true storage miracle, as it has space for 8 x 15ml tubes. The easy start-up enables fast and targeted results. The Hettich centrifuge EBA 200 as successor model of the EBA 20 fulfills all requirements of a small centrifuge and enjoys a compact and space-saving design.
As a cost-effective variant, it can be found in medical and veterinary practices, in educational institutions and schools, as well as in environmental analysis and laboratories for the analysis of water and soil samples. By using different sample tubes, the small centrifuge is in no way inferior to large centrifuges.
Housing and lid made of impact-resistant plastic, inner part of lid made of metal
One-hand lid closure with lid lock and lid tumbler
Glass tubes can be used without adapter
incl. pulse button for short centrifugation steps
Membrane keypad for parameter input
max. speed 6.000 min-1, max. RCF of 3.461
Hettich centrifuges are characterized by reliability and durability. At the same time, they prove their versatility in various fields of application. The quality of Hettich centrifuges is underlined by a contemporary and user-friendly design.
Rotor:
Angular rotor for the formation of an inclined separation layer.
Angle: 33°
Maximum capacity:
8 x 15 ml
Maximum speed:
6.000 min-1
Maximum RCF:
3.461
Key technical data:
With a weight of only 9kg, the EBA 200 centrifuge is exceptionally light. The dimensions of 228 x 261 x 353 mm (H x W x D) also make it a space-saving helper in the practice and laboratory.
Voltage:
208 - 240 V 1 ~
Frequency:
50 - 60 Hz
Connected load:
65 VA
Interference emission, interference immunity:
EN / IEC 61326-1, Class B
Running time:
1 - 99 min, continuous run, short run (pulse button)
Cooling:
Air cooling
Tubes:
Suitable for all common sample tubes. Glass tubes can also be used without adapters. Adapters for many other blood collection tubes are available on request.
High ease of use:
In addition to the simple and easy-to-understand input of speed and run time, the pulse button is also a clear advantage of this small centrifuge. It can be used to set short centrifugation steps. The practical one-hand lid closure can also be opened at the touch of a button.
Areas of application for the EBA 200:
for centrifugation of blood and urine samples in medical and veterinary practices
for clarifying soil and water samples in environmental analysis
as a training and teaching centrifuge in educational institutions
Return policy
This item is not eligible for returns.

For consumers, the right of withdrawal does not apply to contracts for the delivery of sealed goods that are not suitable for return for reasons of health protection or hygiene if their seal has been removed after delivery.