Article successfully added.
Fully automatic POC meter for use with QuikRead go test kits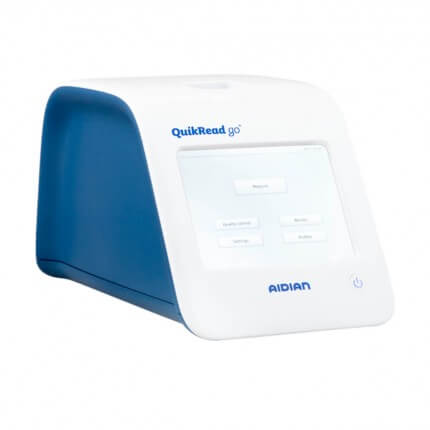 Order number: 102020.0
Package: 1 piece(s)
Item in stock
You will receive your goods between the 13.08.2022 and 17.08.2022 Due to the tense situation caused by the Covid-19 eruption, there may be occasional delays in delivery.
QuikRead go Instant Diagnostic System from Aidian
Aidian's advanced QuikRead go instant diagnostic system enables efficient laboratory testing with subsequent data exchange into a cross-system point-of-care (POC) network. The analysis system is suitable for quantitative and qualitative in vitro diagnostics with reproducible test results. In doing so, the QuikRead go serves as a base instrument for use with versatile Aidian rapid test kits. The presettable calibration data allows the test to be individually adapted to the patient and the laboratory. The intuitive user interface allows all relevant information to be viewed and visualized test steps to be displayed if required. After the test, the result is automatically stored in the system. In addition, each QuikRead go system has an individual serial number - making each analysis unmistakably traceable from the patient to the laboratory.
Product details
Fully automated point-of-care (POC) analysis system
Quantitative and qualitative in vitro diagnostics (IVD)
Versatile selection of ready-to-use test kits
Reproducible test results
Presettable calibration data
Guided test procedure with practical animations
Sensitive touch screen display for results and error messages
Intuitive user interface
Factory calibrated and maintenance free - incl. internal self test
Made in Finland
Dimensions: L 27 x W 15.5 x H 14.5 cm
Weight: 1.7 kg (without battery)
Available in different versions
According to the guidelines of the German Medical Association, a regular quality assurance by positive control with the corresponding Aidian QuikRead go control set is necessary.
CRP & COVID-19 - Analysis with Aidian QuikRead go
The C-reactive protein (CRP) is considered a non-specific biomarker for infections and inflammations. A significant increase in CRP levels has been observed in corona-positive patients, which is currently known to correlate with disease severity. For more information on the correlation of CRP levels and COVID-19 click here.
Networked diagnostics with modern POC systems
The Aidian QuikRead go instant diagnostic system allows cross-system information exchange with compatible data processing systems. The connection to a point-of-care (POC) system enables digital exchange between the medical laboratory and the treating physicians. It also reduces potential transmission errors of manual data entry and ensures secure transmission of sensitive patient data. The QuikRead go system is suitable for unidirectional and bidirectional connection to the laboratory information system (LIS).
Unidirectional connection
Using LIS01-A2 (ASTM) protocol, the QuikRead go device can be connected to any compatible system. Thus, after the test has been performed, the following information can be seamlessly transferred:
Result and unit
Test ID + analyte information
Patient ID
Operator ID
Serial number
Time + Date
System information
Bidirectional connection
Systems with POCT1-A2 standard allow a two-way exchange with the QuikRead go analyzer. In addition to the information of the unidirectional connection, the following data can also be transmitted or functions can be used:
Download of patient lists
Management of user profiles
Comment function
Individual notification to users
Define measured value ranges
Change general settings
Transmission of error information
Locking and unlocking the analysis system
Software updates
Versatile in vitro diagnostics in minutes
C-reactive protein (CRP): 2 minutes
CRP + hemoglobin (Hb): 2 minutes
Glycated hemoglobin (HbA1c): max. 6 minutes
A-Streptococcus (Strep A): 3 - 7 minutes
Immunological stool test (iFOBT): max. 3 minutes
Technical details
Measuring method: immunoturbidimetry, photometry
Test duration: approx. 2 - 6 minutes
Wired connectivity to a printer, barcode scanner and external storage media
Internal memory: 100 patient results, 100 quality control results, 100 LIS offline results
Display: L 11.6 x W 8.7 cm; 640 x 480 p
Connections: USB type A, RJ-45 Modular connector for LIS and HIS connection
Export: CSV file format
Power supply: Mains operation, rechargeable battery (optional)
Scope of delivery
1 Aidian QuikRead go instant diagnostic system in the selected version
1 rechargeable battery (only in version with battery operation)
1 power supply unit
1 power cord
1 instruction manual
The product is subject to instruction in Germany according to MPBetreibV. The instruction is not included in the price.
An instruction with costs by the manufacturer is possible after arrangement. Please contact us for further information.
Return conditions
This article is excluded from withdrawal.
Further information

For healthcare professionals only