Article successfully added.
Test strips for the CoaguChek Pro II system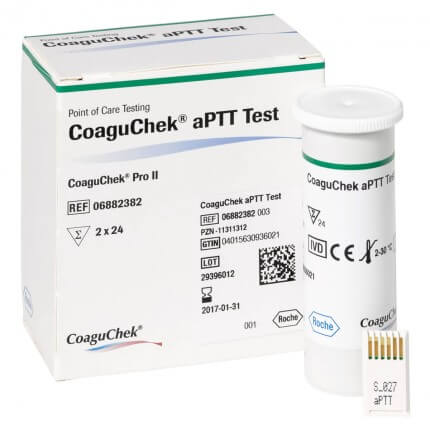 Article ID: 119863
Package: 48 piece(s)
Delivery 15 to 18 days
You will receive your goods between the
25.04.2023
and
28.04.2023
CoaguChek aPTT Test from Roche
With the CoaguChek aPTT test strips, which are specially designed for the CoaguChek Pro II System from Roche, the activated partial thromoplastin time (aPTT) can be determined quickly and easily within 5 minutes at the point-of-care . This enables mobile monitoring of anticoagulation therapy in real time. The measured values (plasma equivalent seconds) are comparable to the precision of laboratory results. For quality control purposes, a code chip is included in each package, which reads relevant information on the test method, lot number as well as the expiry date into the CoaguChek Pro II system.
Important Note: For healthcare professionals only.
Thetest may only be performed and interpreted by a physician or a person authorized by a physician. Medical laypersons may use and interpret the test incorrectly.
Product details
Quantitative aPTT determination with the CoaguChek Pro II System
In vitro test of activated partial thromoplastin time (aPTT)
Sample application field can be filled from the side or from the top
Insensitive, heparin-interfering test strips
Constant monitoring of system and test strips during measurement
Incl. code chip with information about each new test strip batch
Detection system: Amperometric (electrochemical) determination after activation of blood coagulation with Celite
Sample material: capillary blood; venous and arterial whole blood
Sample volume: 8 μl
Measuring time: approx. 5 minutes
Measuring range: 20 - 130 plasma equivalent seconds
Heparin effects: Insensitive to low molecular weight heparins (LMWH) up to 0.5 IU/mL blood, at UFH: linearity of 0.1-1.0 IU/mL
Stability: Store at +2 °C to + 30 °C
Scope of delivery
2 x 24 Roche CoaguChek Pro II aPTT test strips
1 Roche CoaguChek Pro II code chip
Note: The test strips can only be used with the Roche CoaguChek Pro II system.
Return policy
This item is not eligible for returns.
Further information

For healthcare professionals only