Article successfully added.
Immunological stool rapid test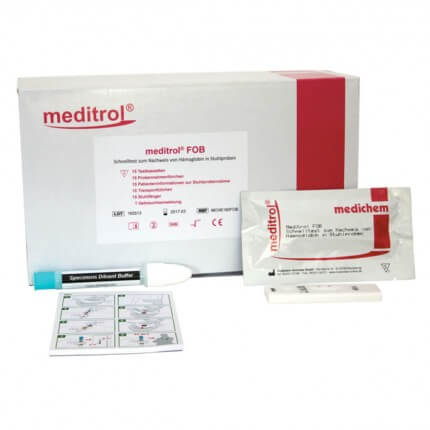 Order number: 155716
Package: 15 piece(s)
Item in stock
You will receive your goods between the 09.07.2022 and 13.07.2022 Due to the tense situation caused by the Covid-19 eruption, there may be occasional delays in delivery.
Meditrol FOB from medichem
The meditrol FOB cartridge test is a visual, immuno-chromatographic rapid test for qualitative detection of human hemoglobin in stool samples (fecal occult blood = FOB).
for qualitative detection of human hemoglobin in the stool

package includes 15 test cartridges, sampling tubes and supplies
Intended only for professional in vitro use.
Designed to deliver indications of disease in the large instestine, such as colon cancer and larger hemorrhoids.
Test concept
The immunological meditrol FOB rapid test's immuno-chromatographic method is based on recognizing human hemoglobin exclusively through a specific antibody reaction. The hemoglobin contained in the stool sample reacts with specific monoclonal antibodies that are bound to gold particles. This complex spreads over the membrane and reaches the test strips (T) on which resides the anti-hemoglobin. In a positive result, the hemoglobin molecules loaded with antibodies and their gold markers are bound to the test strips (T) and become visible as a pink coloration. In a negative, no hemoglobin molecule complex can bind to the test strip (T) and so there is no coloration. A control band (C) guarantees through its pink coloration that the sample deposit and the sample migration occurred correctly and that the test is valid.
Colon cancer risk
Colon cancer is one of the most frequently diagnosed cancer types and one of the most frequent causes of cancer deaths (Lieberman, 1994; MMWP, 1995). By testing occult blood in stools, colon cancer can be recognized early on and the mortality rate reduced. (Dam et. al., 1995; Miller, 1995; and Lang, 1996). Previously, tests for occult blood relied on the Guajac method, requiring a special diet to avoid false positives and false negatives. The highly specific meditrol FOB therefore was developed for the purpose of indicating human hemoglobin in stool samples. The test is based on an immunochemical method that improves detection of disease in the large intestine over the classic Guajac method through higher sensitivity and specificity.(Frommer et. al., 1988; St. John et. al., 1993).
Return conditions
This article is excluded from withdrawal.
Further information

For healthcare professionals only