Article successfully added.
Immunological stool rapid test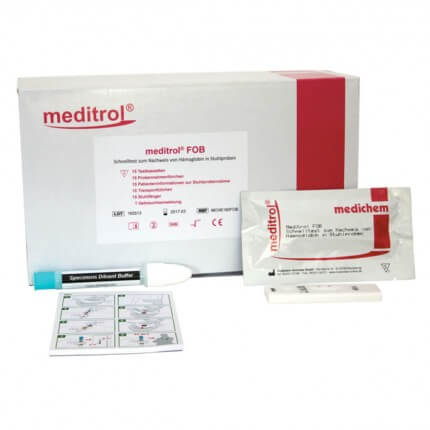 SKU: 155716
Package: 15 piece(s)
Item in stock
The delivery will take place between the
12.12.2023
and
15.12.2023
Meditrol FOB from medichem
The meditrol FOB stool test from medichem is used for the qualitative detection of human hemoglobin in stool. The detection can be used as a tool for the diagnosis of colorectal cancer and enables early therapy. By means of visual color development on the test strip, hemoglobin present is clearly detected. The chromatographic rapid test is easy and user-friendly to use and the test result can be read after only 5 minutes.
Important note: For health professionals only.
Thetest may only be performed and interpreted by a physician or a person authorized by a physician. Medical laypersons may use and interpret the test incorrectly.
Product details
Qualitative detection of human hemoglobin in stool
Aids in the early detection of colorectal cancer
Immunochromatographic, visual rapid test
For professional in vitro diagnostic use
High sensitivity and specificity
Simple evaluation by interpretation of visual color development
Test result available after only 5 minutes
Fast and user-friendly application
Integrated procedure control with control line
Hygienic and easy to wipe off
Storage temperature: 2 - 30 °C
Scope of delivery
1 package medichem meditrol FOB stool test à 15 tests consisting of:

15 test cassettes
15 sampling tubes
15 stool catchers
15 patient information for stool collection
15 transport bags
Return policy
This item is not eligible for returns.

For consumers, the right of withdrawal does not apply to contracts for the delivery of sealed goods that are not suitable for return for reasons of health protection or hygiene if their seal has been removed after delivery.
Further information

For healthcare professionals only