Article successfully added.
The economical maternity test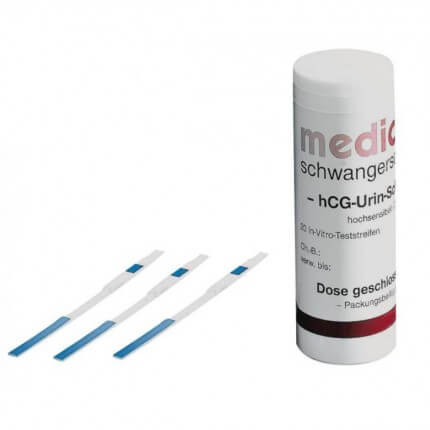 Order number: 159083
Package: 25 piece(s)
Item in stock
You will receive your goods between the 19.08.2022 and 23.08.2022 Due to the tense situation caused by the Covid-19 eruption, there may be occasional delays in delivery.
| Quantity | Price per unit | Price per unit (gross) | Reference price | Reference price (gross) |
| --- | --- | --- | --- | --- |
| To 9 | €9.55 * | €11.36 * | €0.38 * / 1 piece(s) | €0.45 * / 1 piece(s) |
| From 10 | €9.15 * | €10.89 * | €0.37 * / 1 piece(s) | €0.44 * / 1 piece(s) |
| From 20 | €8.75 * | €10.41 * | €0.35 * / 1 piece(s) | €0.42 * / 1 piece(s) |
Meditrol hCG Pregnancy Test from medichem
For rapid detection of the pregnancy hormone hCG in urine. This test delivers a visual, qualitative result and was developed for professional use.
hCG urine rapid test
highly sensitive (20 mU/ml)
easy to use
Meditrol's hCG pregnancy test is used successfully above all in physicians' practices
hCG can be detected seven days after conception already with this test
detailed information and exact instructions for use
Human choriongonadotropin (hCG) is a glycoprotein hormone that the placenta begins to build shortly after conception. In the course of a normal pregnancy, hCG can be verified in serum by day seven after conception (1-4). The hCG concentration climbs very rapidly, often reaching a value of 100 mIU/mL by the first missed period (2-5) and finally peaks in the 10th to 12th week of pregnancy in the 30,000 - 100,000 mIU/mL range.
The early appearance of hCG after conception and the subsequent increased concentration in early pregnancy make it the ideally suited indicator for detecting pregnancy early on. However, an elevated urine hCG level comparable to the one in early pregnancy can also appear in conjunction with a cystic mole or a choriocarcinoma, so that these possibilities need to be excluded before diagnosing a pregancy.
The hCG strip test is a rapid membrane test for detecting hCG starting with a concentration of 20 mIU/mL in urine. The test employs monoclonal antibodies to evidence hCG in urine. The immune reaction's specificity excludes a cross-reaction with the structurally-related glycoprotein hormones FSH, LH and TSH when present in physiological concentrations.
Test concept
The hCG strip test is a chromatographic immunoassay test for the rapid, qualitative detection of hCG in urine samples. The membrane's test area has bound to it antibodies against the hCG's a-chain and the control area has on it goat anti-mouse antibodies. As the test starts, the sample is mixed with colloidal gold particles that carry monoclonal antibodies against the hCG b-chain on their surfaces. Next, capillary action transports all particles along with the fluid across the membrane. If the result is positive, that is, if there is hCG, an antibody-hCG antibody-gold aggregate builds and with it a colored band appears in the test area. If no colored band appears in this area, it is a negative test. In either case, there should be a colored band visible in the control region, signifying that the test was conducted successfully.
Return conditions
This article is excluded from withdrawal.
Further information

For healthcare professionals only