Article successfully added.
semi-quantitative urine quick-test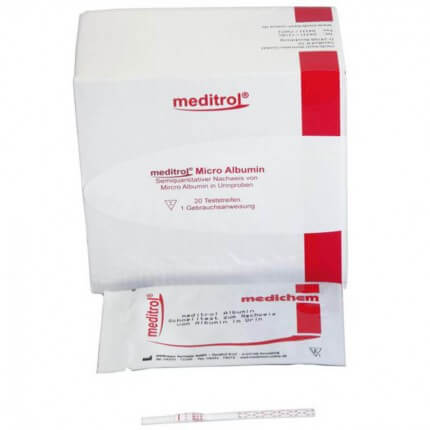 Order number: 159084
Package: 20 piece(s)
Item in stock
You will receive your goods between the 09.07.2022 and 13.07.2022 Due to the tense situation caused by the Covid-19 eruption, there may be occasional delays in delivery.
Micro Albumin from medichem
The meditrol Microalbumin-test is an immuno-chemical lateral flow test. It serves for the semi-quantitative proof of small amounts of albumin in urine. The color intensity of the test result-line continuously decreases at a concentration-range of 20 mg/L - 100 mg/L, so the amount of albumin can be read on a color scale. Albumin concentrations above these values are apparent through complete disappearance of the test result-line.
The meditrol Microalbumin-test is designated exclusively for professional use and is evaluated visually.
Product function:

The product serves for first screening of urine samples and delivers an initial analytical result, because fluctuations in the urine concentration are not considered. Positive test results above 20 mg/L should therefore be ensured through a more specific quantitative method. Clinical observations and a professional verdict should influence the interpretation of every albumin-test, especially in the case of an initial positive test result. The meditrol micro albumin-test is a competitive immunoassay, in which the immobilized human albumin of the test competes for a limited number of antibody binding-sites with albumin potentially contained in the urine.
Functional method:

The test strip is coated with human albumin in the test-line region (T-Region). A pillow with color-coded anti-albumin antibodies is at the starting end of the membrane. The antibodies enter the T-region with the added urine, which flows along the membrane through capillary force. If no albumin is present in the urine, the antibodies adhere to the immobilized albumin on the membrane, so that a red-tinted line appears. But if albumin is present in the urine, if competes for the binding sites of the antibody with the albumin in the T-region. The bond of the antibodies in the T-region is increasingly inhibited with increasing albumin-concentration in the urine, and the color intensity of the test result-line becomes continually weaker. This decrease in color intensity can be observed with the included color-scale, with whose help the color-intensity of a specific albumin concentration can be assigned (semi-quantitative evaluation). If the test result-line disappears completely, it means that the albumin concentration is above the area suited for semi-quantitative evaluation. The test result then should be categorized as positive.
to determine albumin concentration
storable at room temperature
indication from 20 mg/l
Return conditions
This article is excluded from withdrawal.
Further information

For healthcare professionals only