Article successfully added.
Sigma
Anti-Condensation Agent Ultra-Stop
anti-condensation agent for optics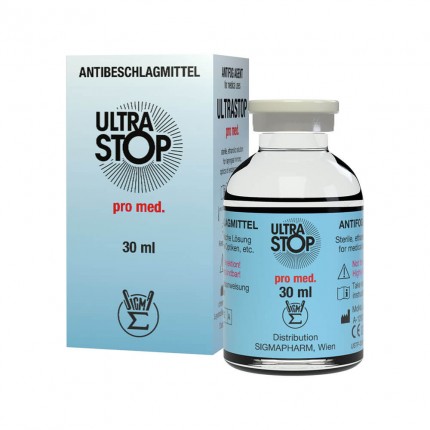 Order number: 110728
Package: 30 ml
ready for shipment
You will receive your goods between the 25.09.2020 and 29.09.2020
Current information on the delivery situation:
Due to the tense situation caused by the Covid-19 eruption, there may be occasional delays in delivery. We have adjusted the capacities of our logistics accordingly, so that we can largely meet the indicated delivery dates.Medical facilities and doctors are supplied by us with priority. We do not supply resellers. Thank you for your understanding!
Anti-Condensation Agent Ultra-Stop
Ultra-Stop is a high-quality anti-condensation agent for medical optics.
The special effect of Ultra-Stop consists in the building of a special coating on the surface of the treated optics. In case of water-vapor condensation, the occurrence of droplets and therefore the fogging-over of the surface, is effectively prevented through this extremely thin and absolutely clear, transparent film.

For all types of medical examination mirrors and optics (i.e. larynx- and epipharynx mirrors, coloscopes, dental mirrors, etc.)

For all types of eye-glasses (i.e. surgical glasses, safety-goggles, sunglasses, sports-glasses, etc)

For all types of lenses and mirrors in microscopes or other scientific equipment

For all other glass- and mirror-surfaces (diving-masks, helmet-visors, vehicle windows, etc.)