Article successfully added.
Couppée
Coupee Moor Single-Use Pack
Ready-to-use pack of natural peloid clay, for single use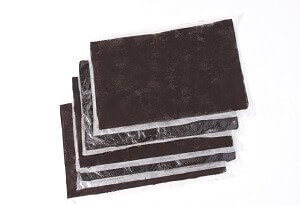 Order number: 1002
Package: 20 piece(s)
ready for shipment
You will receive your goods between the 25.09.2020 and 29.09.2020
Current information on the delivery situation:
Due to the tense situation caused by the Covid-19 eruption, there may be occasional delays in delivery. We have adjusted the capacities of our logistics accordingly, so that we can largely meet the indicated delivery dates.Medical facilities and doctors are supplied by us with priority. We do not supply resellers. Thank you for your understanding!
Coupee Moor Single-Use Pack
Finest clay and chalk particles with organic material. A compress covered with 450 grams of nature-provided peloid clay.
Indicated for hot applications (heat lamp treatments)
Hot packs (42-48°C) for sub-acute and chronic conditions of the rheumatic spectrum disorders - joint and spinal ailments, soft tissue rheumatism. Also, for painful conditions from trauma on exercise equipment, functional blood flow restrictions, pain amelioration in chronic diseases of the digestive and urogenital tracts.
indicated for hot applications
for rheumatic ailments, after traumas on exercise equipment, for relaxation and increasing wellbeing
only to be used in combination with a reusable thermal support
weight: 480 g
You get ready-to-use compresses for putting on skin with a reusable thermal support during heat lamp treatments.