Article successfully added.
HARTMANN
Foliodrape protect Basic Surgical Drape Set
Foliodrape protect Basic Surgical Drape Set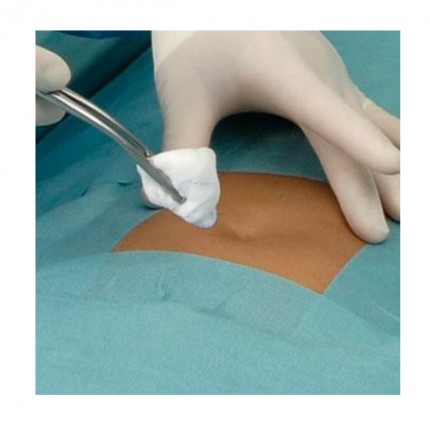 Order number: 157638
Package: 9 piece(s)
Delivery 9 to 13 days
You will receive your goods between the 13.11.2020 and 19.11.2020
Current information on the delivery situation:
Due to the tense situation caused by the Covid-19 eruption, there may be occasional delays in delivery. We have adjusted the capacities of our logistics accordingly, so that we can largely meet the indicated delivery dates.Medical facilities and doctors are supplied by us with priority. We do not supply resellers. Thank you for your understanding!
Foliodrape protect Basic Surgical Drape Set
Sterile draping with Foliodrape is an important element of effective infection prophylaxis in the OR. That is because material, finish and safety in use make a reliable and easy draping of the patient and his vicinity possible.
In this way Foliodrape contributes decisively to reducing contamination risk.
1 table drape cloth, 100 x 150 cm
2 drape cloths, self-adhesive, 170 x 175 cm
2 drape cloths, self-adhesive, 75 x 190 cm

Foliodrape OR drapes possess the advantageous absorptive capacity of textile drapes, while remaining completely moisture-repellent and germ-proof.

Foliodrape's anti-static properties guard against possibly influencing or manipulating apparatus arrayed in the OR.

Finally, Foliodrape is easy to dispose of using current methods. It can be incinerated, since it burns completely without leaving harmful residues. The Foliodrape drape sets are groundwater-neutral, so that they are legal for landfill disposal.

Foliodrape OR drape sets are free of natural latex, with the exception of the Foliodrape Urology-Set I and the Foliodrape Urology-Set II, on which the finger cots are made of latex.
Advantages of the Hartmann Foliodrape

Securely-attaching adhesive strips on Foliodrape drape cloths provide a quick and tightly-closed positioning on the patient's skin and present an effective barrier to germs. This effectively stops microorganisms from migrating into the incision wound.
Make sure that the disinfected skin area is dry before fixing the adhesive strips in place so that there is tight adhesion.
Foliodrape drape sets have been assembled with customized components required for the most frequently-performed operations. They offer a systematic way of preparing for operations in just about every specialty discipline.
The drape sets are folded and assembled in a sequence that permits them to be used without problems and with sterility assured.
As with textile drapes, draping can be done by two people. Where personnel shortfall prevails or in an emergency, one person alone can also do the draping with Foliodrape without problem and under sterile conditions.
Return conditions
This article is excluded from withdrawal.