Article successfully added.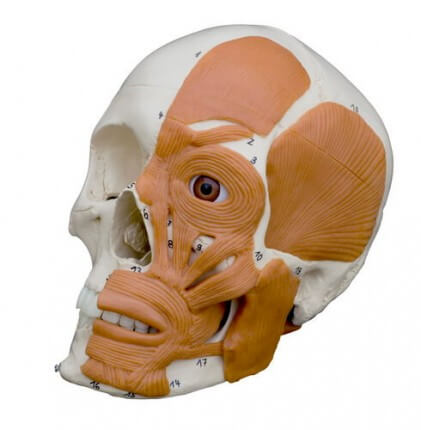 Article ID: 200383.1
Package: 1 piece(s)
Delivery 40 to 43 days
You will receive your goods between the
05.06.2023
and
09.06.2023
Anatomy skull with facial muscles from Rüdiger Anatomie
This model, unique in the world, shows the Rüdiger anatomy human skull half-sided with the most important muscles of the head. The muscles of the head are flexible. This means that movements, e.g. of the jaw during chewing, can be reproduced.
The skull is cast from a natural homo skull with excellent reproduction of all anatomical details
The 31 individual teeth are removable. A bone flap in the lower jaw allows views of the tooth root, cancellous bone, nerve canal and an impacted wisdom tooth. The skullcap is removable to allow view of the fully formed skull base. All important nerve canals are opened.
Further information