Article successfully added.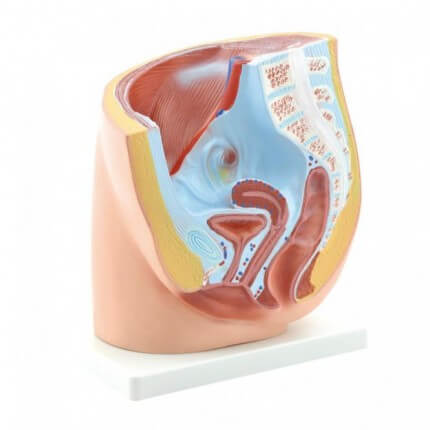 Article ID: 400319.1
Package: 1 piece(s)
Item in stock
The delivery will take place between the
02.10.2023
and
06.10.2023
Pelvis Model female from HeineScientific
This anatomical pelvis model female shows the anatomy of an adult woman in detail and in longitudinal section. As a typical female pelvis model, the replica is covered with different colors, so that the distinction of the individual structures of the female anatomy is facilitated. With the female pelvis model, learning and demonstrating the anatomical structures is simplified and even accelerated.
HeineScientific model anatomical pelvis female - At a glance
Female pelvis model, longitudinal section
Color-coded and clearly arranged
Ideal teaching model
Highly detailed representation of abdominal wall muscles, urinary bladder and tube, vagina, cervix, uterus, ovaries, fallopian tubes and other structures, among others
Dimensions: 25 cm (H) x 18 cm (W) x 28 cm (D)
incl. base
Cannot be disassembled
Anatomical pelvis models for better learning
The female anatomical pelvis model helps students, pupils and trainees to visualize female anatomy and to memorize the many complex structures of the pelvis. On the other hand, the female pelvic model also helps perfect demonstration on the part of the teacher. Due to the clear color coding of the individual elements in the model pelvis, they can be recognized and internalized by the audience even from a distance. The high level of detail is a further plus point for training.
Of course, experienced gynecologists or midwives also benefit from this detailed, life-size model of the female pelvis. In patient consultations, showing the pelvic model can eliminate ambiguities, illustrate and explain risks, and clarify possible forms of treatment and therapy or interventions.
Which structures of the female anatomy does the pelvic model show?
Through this female pelvic model are shown:
The abdominal wall muscles
The symphysis pubica
The urinary bladder
The urethra
The external female genitals
The vagina
The cervix
The uterus - including myometrium and endometrium
The ovary
The Fallopian tubes
The fornix vaginae
The Douglas space
The rectum incl. sphincter
A part of the spine and the coccyx
The entire musculature and
The blood vessels in the female pelvis.
Scope of delivery
Female pelvis model, life-size