Article successfully added.
Infrared clinical thermometer for a precise and quick temperature measurement - without touch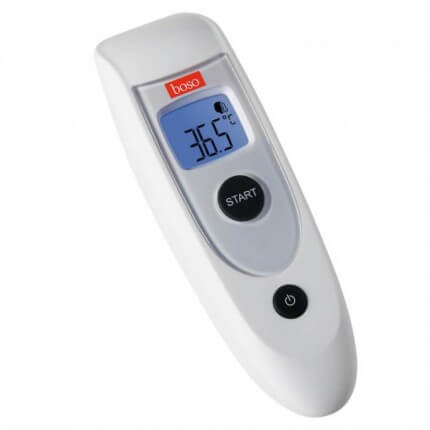 Order number: 119976
Package: 1 piece(s)
Item in stock
You will receive your goods between the 03.11.2021 and 06.11.2021
therm diagnostic thermometer from boso
The Boso Bosotherm diagnostic thermometer is an infrared thermometer for temperature measurement of the forehead. The exact body temperature will be indicated in only 1 second, even without direct skin contact. The instrument can also be used for the precise determination of diverse surface tempratures. The large illuminated display shows the body or surface temperature the infrared sensor is directed at. The thermometer is furthermore equipped with a so-called fever alarm which will sound off once the body temperature is equal or higher than 37.5 °C.
precise measurements in only 1 second
for body and surface temperatures
thermometer performs self-test each time it is switched on to ensure exactness of the measurements
measuring method: contactless infrared thermometer
measurement range: 0 °C - 100 °C
illuminated display
easy to hold due to ergonomic design
30 temperatures can be saved and/or recalled
case and batteries included
acoustic fever alarm
warranty: 2 years
The Boso quality thermometer for body and surface temperatures
The Boso Bosotherm diagnostic thermometer is the quality model of the Boso family. The non-contact infrared thermometer determines the body temperature of a patient within only 1 second without skin contact. The sensitive sensor technology records the infrared rays sent by the human body and thus determines the core body temperature. If the value taken exceeds normal body temperature, an automatic acoustic alarm sounds off. The thermometer cannot only determine body temperatures but also temperatures of different surfaces - without direct contact.
Innovative infrared technology
The sensitive non-contact sensor technology allows for precise measurements of body or object surface temperatures by receiving and calculating the emission of infrared radiation. The extended temperature range starts at 0.1 °C and ends at 99.9 °C. Temperature measurements can be taken of infants older than 6 months, children, juveniles and adults. There is no danger of glass breakage or swallowing mercury. As there is no skin contact needed, the thermometer is hygienic and safe.
Up to 30 temperature measurements can be saved into memory and recalled when needed.
Technical data
Measuring range:
0,1 °C - 99,9 °C
Measurement accuracy under laboratory reference conditions (body temperatures): (
±0,2 °C in the range from 35 ~ 42 °C ±0,3 °C in the range <35 °C and > 42 °C
Measurement accuracy under laboratory reference conditions (object temperatures):
±1,0 °C in the range from 0,1 °C ~ 99,9 °C
Display:
LCD Display with 0.1 °C resolution blue backlight
Memory:
30 measured values
Operating conditions:
Temperature range: 15 °C ~ 40 °C
Humidity range: up to 95 % relative humidity (no condensation)
Storage and transport:
Temperature range -20 °C ~ +55 °C Humidity range: up to 95 % relative humidity (no condensation)
Automatic shut-off:
- 60 seconds after completing a measurement - 30 seconds in memory mode - 10 seconds after error message and in case of deviation in ambient temperature from defined temperature range
Voltage/batteries:
1.5 V x 2 AAA (LR03) - at least 1,000 measurements
Applied part:
Type BF
Dimensions:
app. 140 mm (L) x 43 mm (W) x 47 mm (H)
Weight
app. 93 g incl. batteries
Reference standards:
conforms to the provisions of the EU Guidelines 93/42/EEC for Class IIa medical devices.
Scope of delivery:
1 IR-thermometer bosotherm diagnostic
1 storage bag
2 LR03 (AAA) batteries (inserted in device)
1 user instructions