Article successfully added.
With PRE-TARE function & 6 kg load capacity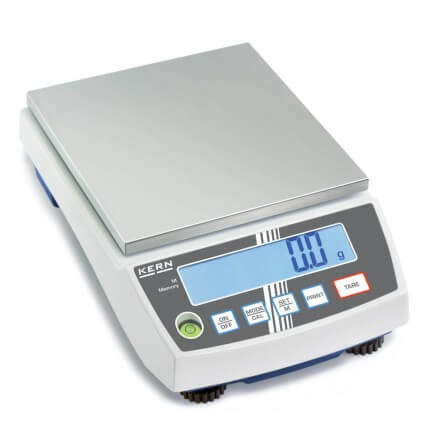 Article ID: 102529.0
Package: 1 piece(s)
Delivery 7 to 10 days
You will receive your goods between the
10.06.2023
and
14.06.2023
Precision balance PCB 6000-1 from KERN
The PCB 6000-1 precision balance from KERN is a high-precision measuring instrument with a capacity of 6000 g and a measuring accuracy of 0.01 g. Thanks to the easy-to-read LCD display, the energy-efficient automatic switch-off and the automatic zero setting, handling is convenient and efficient. The automatic calibration function ensures consistent accuracy. In addition, the PCB 6000-1 precision balance from KERN's IoT-Line has a practical pre-tare function that allows the weight of a container to be subtracted from the total measurement. This is especially handy when measuring powdered or liquid materials that are often stored in containers.
Product details
Compact precision balance for versatile use in the laboratory
With backlit LCD display
Weighing data can be transferred to a PC or laptop for evaluation and visualization via a USB data interface
Uniform, simplified operation
PRE-TARE function for manual pre-weighing of a known container weight
With the formulation function
Weighing with tolerance range (checkweighing): Visual and acoustic signals provide support during portioning, dosing or sorting
Freely programmable weighing unit, e.g. in thread length g/m or paper weight g/m2
Special anti-shock system between load plate and load cell reduces vibrations during weighing
Incl. protective work cover
Material (housing): Plastic
Material (weighing plate): Stainless steel
Dimensions (housing): W 167 x D 245 x H 82 mm
Dimensions (weighing plate): W 150 x D 170 mm
Weight: 2 kg
Practical additional functions of the PCB 6000-1 precision balance
For precise measurement results during weighing and as a support in everyday laboratory work, the balance has various additional functions.
With the tare function, the respective dead weight of preloads can be determined and tared in advance. This function is suitable in the laboratory, for example, for glass vessels and reagent holders. Only the tared weight is then shown on the display.
Thanks to the integrated auto-off function, the balance switches itself off after a short time. This conserves the batteries and saves the additional effort of deactivating the scale manually.
With the help of Industry 4.0 and the integrated KERN Universal Port (KUP), the laboratory balance offers easy connection to external devices. This enables the connection of KUP interface adapters such as RS-232, USB, Bluetooth, WLAN or Ethernet. Using the adapters is particularly easy, as they can simply be plugged in without opening the balance housing and without time-consuming installation. With the interface adapters, weighing data can be conveniently transferred to networks, PCs, smartphones, tablets, laptops, printers and other devices. It is also possible to send control commands and data inputs to the scale via the connected devices.
The recipe function allows multiple ingredients in a given quantity to be combined into one recipe and the weights of each ingredient to be calculated automatically. This saves time and improves accuracy.
Technical details
Compatible with school-specific software solutions such as Vernier or LabQuest thanks to the KERN School Protocol
Industry 4.0: The integrated KERN Universal Port (KUP) allows the connection of external KUP interface adapters, such as RS-232, USB, Bluetooth, WLAN or Ethernet KERN Communication Protocol (KCP) allows the interrogation and remote control of the scale via external control devices or computers
Weighing system: strain gauge
Weighing range: max. 6 kg
Digit increments: 0.01 g
Measuring unit: g, kg, oz, ozt, lb, tlh, tlt, gn, dwt, mo, Tol, ct, FFA
Measuring accuracy: 0.01 g
Warm-up time: 120 min
Interface: RS-232, USB, Bluetooth, WLAN or Ethernet
Operating time: 20 h
Power supply: 9 V block batteries
Scope of delivery
1 KERN precision balance PCB 6000-1
1 weighing plate
1 power supply unit
1 work protection cover
1 instruction manual
The balance is not intended for use in legal metrology.
Further information