Article successfully added.
Fiber optics with XHL or LED illumination - With XHL 2.5 V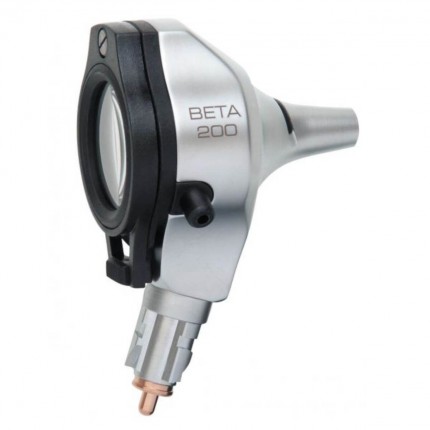 SKU: 110144
Package: 1 piece(s)
Item in stock
The delivery will take place between the
09.12.2023
and
13.12.2023
HEINE BETA 200 F.O. otoscope head from HEINE Optotechnik
A jewel for your office! The HEINE BETA 200 F.O. otoscope head is the pièce de résistance among the otoscopes of the HEINE family. It possesses fibre optics that is so far unbeaten in quality. In addition, the solid all-metal design of the otoscope head ensures its durability and easy cleaning. The distal fibre-optic illumination of the otoscope – whether XHL or LED – guarantees bright, shadow-free illumination of the auditory canal and tympanum without reflections.
BETA 200 F.O. otoscope head – At a glance
Distal fibre-optic illumination with XHL xenon-halogen technology or LED illumination
Large viewing window, scratch resistant and with 3x magnification, made of coated optical glass
Integrated and fixed multi-coated glass viewing window, swivelling and airtight closing
With blower connection for pneumatic eardrum test
Black inner headpiece for reflection-free, shadow-free otoscopic examinations
Material: Matt chrome-plated all-metal housing
LED life: up to 100,000 hours
Available in different versions
BETA 200 F.O. otoscope head – Exact jewel
The HEINE BETA 200 F.O. otoscope head provides a precise, sharply contoured image of the auditory canal and tympanum. This is thanks to the bright XHL Xenon-Halogen or LED illumination of the otoscope and the scratch-resistant viewing window made of clear optical glass. As a bonus, this window is dust-proof and ensures a longer service life of the otoscope head. With the XHL version of the otoscope head, you can choose between 2.5 V and 3.5 V.
The otoscope head also features a connection for blower attachments, so you can easily perform the pneumatic eardrum test with only one diagnostic device. Quick and easy instrumentation is guaranteed with this handy otoscope head.
Package contents
1 HEINE BETA 200 F.O. otoscope head with the selected head