Article successfully added.
Sarstedt Dispenser for S-Sedivettes
Sarstedt dispenser with scale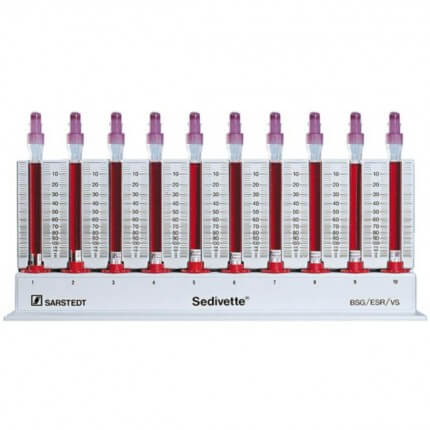 SKU: 188044
Package: 1 piece(s)
Item in stock
The delivery will take place between the
08.12.2023
and
12.12.2023
Dispenser for S-Sedivettes from Sarstedt
The Sarstedt S-sedivette stand is particularly practical for taking accurate BSG measurements. The scaled back of the sedivette stands is optimally matched to the scale of the S-sedivette, so that reading off the sedimentation value in comparison with S-sedivettes stored next to it is quick and clear.
Product details
Sarstedt S-Sedivette stand for BSG sedivettes
BSG determination in closed system
Scaled back wall
Sharp contrasts for precise reading
No risk of infection as there is no need to decant into pipettes
Sedimentation measurement directly in the sampling tube
Easy handling
Time-saving
Sarstedt S-Sedivette stand: the Sediplus system solution
The Sarstedt Sedivette Stand makes BSG measurement more precise and hygienic than with conventional methods. The proven closed system of the S-Monovette also makes this possible with the S-Sedivette. Blood sedimentation takes place cleanly and in a closed system, completely without a sedimentation pipette.
BSG measurement using the Sarstedt Sedivette stand
The comparison makes you rich: For the BSG measurement you simply load the sedivette stand with just filled Sarstedt sedivettes and mark the zero point of each blood sample with the red knurled screws. Then it's time to wait. After one hour, the sedimentation value can be read off the converted scale. This value corresponds to the mm value according to Westergren. The Sarstedt stand is therefore worth the investment. It enables precise reading of the BSG values.
Scope of delivery
1 Sarstedt stand for S-sedivettes