Article successfully added.
B. Braun Omnifix 40 Duo insulin syringes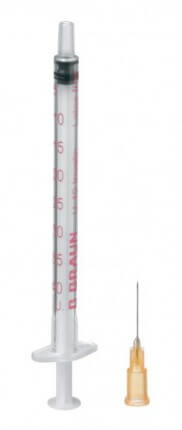 Article ID: 183143
Package: 100 piece(s)
This item is not available
Omnifix 40 Duo insulin syringes from B. Braun
BBraun Omnifix 40 Duo disposable insulin syringes have been developed for the subcutaneous injection of U-40 insulin in diabetes mellitus. The clear graduation on the highly transparent cylinder wall of the disposable insulin syringe makes exact dosing of insulin safe and easy for diabetes patients. The matching Sterican cannula in the size Ø 0.45 mm x 12 mm is particularly gentle with its precise facet cut and is supplied directly, so the set is quickly ready for use.
Omnifix 40 Duo - At a glance
3-part disposable syringe for U-40 insulin
Included thin-walled needle with 3-facet cut
Red scale with large digits for accurate dosing
Clear round barrel
Piston with double sealing ring
Integrated piston stopper
Centric Luer cone
Material insulin syringe: PP, PS, RS, silicone oil
Material syringe needle: PP, stainless steel, silicone oil
Latex-free, PVC-free, DEHP-free
Size: 26G x 12 mm / Ø 0.45 mm
Graduation: 1 I.U. (1 IU)
Individually sterile packed syringes with
Meets ISO 7886-1 standard
Scope of delivery
100 BBraun Omnifix 40 Duo with enclosed Sterican needles
Return policy
This item is not eligible for returns.