Article successfully added.
medichem meditrol Strep-A
quick-test for proof of streptococci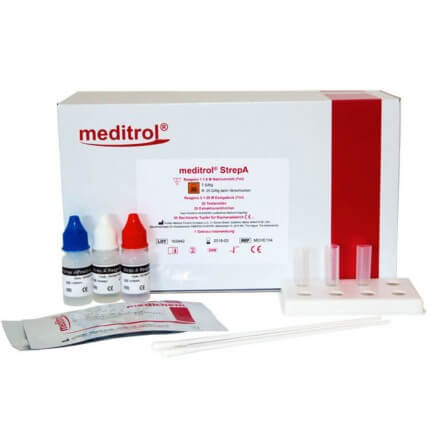 SKU: 116278
Package: 20 piece(s)
Item in stock
The delivery will take place between the
09.12.2023
and
13.12.2023
meditrol Strep-A from medichem
The meditrol Strep-A rapid test from medichem is used for the qualitative detection of group A streptococcal antigens in throat swab samples in throat swab specimens. It is easy to use and delivers the test the test result after only 5 minutes for the presence of a streptococcal infection. Thanks to early diagnosis, prompt therapy can be initiated, reducing the risk of serious secondary diseases
Important note: For health professionals only.
Thetest may only be performed and interpreted by a physician or a person authorized by a physician. Medical laypersons may use and interpret the test incorrectly.
Product details
Qualitative determination of Streptococcus A antigens
Rapid visual immunoassay
High sensitivity and specificity
Simple test strip method
Result after only 5 minutes
For professional in vitro diagnostic use
Storage at 2 - 30 °C
Sample material: throat swab
Important note: Reagent 1 is toxic if swallowed: contains 1 M NaNO₂
Diagnosing Strep A infections quickly, easily & safely
Thanks to the Streptococcus rapid test, group A patients can be tested quickly and easily for the presence of an infection. The high sensitivity of the test is used to detect positive results and the specificity is used to detect negative results. While conventional detection methods for Strep A infections involve isolating the patient and then identifying the infecting organisms over a 24-48 hour period, the Streptococcus rapid test quickly and reliably identifies an infection present. Early diagnosis and treatment sets an optimal baseline for counteracting the severity of symptoms and associated illnesses such as tonsillitis, pharyngitis and scarlet fever at an early stage.
Scope of delivery
1 pack of medichem meditrol Strep-A rapid tests à 20 test cassettes consisting of:

1 bottle reagent 1
1 bottle reagent 2
1 positive control
1 reagent holder
20 test strips
20 extraction tubes
20 sterile swabs
Signal word:
Danger

Pictogram:
Hazard warnings:
H301 – Toxic if swallowed.

Safety instructions:
P273 – Avoid release to the environment.
P308+P311 – IF exposed or concerned: Call a POISON CENTER/doctor/…

Return policy
This item is not eligible for returns.

For consumers, the right of withdrawal does not apply to contracts for the delivery of sealed goods that are not suitable for return for reasons of health protection or hygiene if their seal has been removed after delivery.
Further information

For healthcare professionals only