Article successfully added.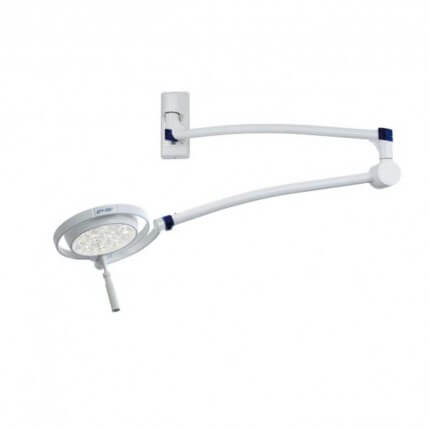 Article ID: 294608
Package: 1 piece(s)
Goods in the inlet. Delivery time longer than 8 weeks.
LED 120 / 120 F examination light wall model from Dr. Mach
The Dr. Mach LED 120 examination light as a wall model offers perfect illumination during an examination. The very bright LED illumination shows even the finest color nuances in the tissue during diagnostics. The color rendering enables natural nuances.
Product details
With fixed or variable focus
For wall mounting
Fixed light field size
Natural nuances in color rendition
Low heat emission
Increased mobility
Easy handling
Available in different versions
Versatile operating light
These LED operating lights have a high illumination intensity, but still only a very low heat radiation. The practical arrangement of the light head and holder provides a homogeneous light field. Due to the innovative design and high-quality workmanship, neither dust nor dirt and liquids can penetrate the inside of the lamp. The lamp has increased mobility and the on/off and electronic brightness control are performed on the lamp head itself. This type of light is perfect for medical practices and clinics, so they are an integral part of medical practice supplies and laboratory supplies, but also in gynecology. Especially in surgical work and diagnostics, it is an important part of the practice equipment. The attachment is explained in the instructions and is easy to perform with the appropriate tools. Due to its wide range of applications, the operating light is offered as a variant with fixed focus and with variable focus. Both variants have the same light intensity and light quality.
Technical details
Brightness / 1 meter (lux): 40.000
CRI: 95
Color temperature (K): 4,300
Dimming range (%): 50 - 100
Number of LEDs: 12
Light field size: Ø 13 cm (fixed)
Power consumption: 18 W
Lifetime: ≥ 50,000 h
Working range: 70 - 140 cm
Lamp body: Ø 29 cm
Scope of delivery
1 LED examination light in the selected version
Return policy
This item is not eligible for returns.