Article successfully added.
Ambu
Blue-Sensor Disposable Electrodes
pre-gelled disposable electrodes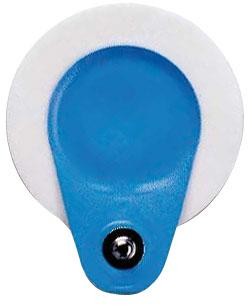 Order number: 188215
Package: 25 Stück
ready for shipment
You will receive your goods between the 22.08.2019 and 26.08.2019
Blue-Sensor Disposable Electrodes
Disposable electrodes for ECG, ergometry and long-term ECG.

Electrode materials
Sensor
Silver/silver-chloride (Ag/AgCl)
External carrier
Non-woven fabric
External adhesive
Solid gel
Upper part
Polyvinyl-chloride/EVA-polyethylene
Connector
Polypropylene (PP)
Terminal
Nickel-plated brass
Vein Cable
Copper
Isolation Cable
Polyvinyl-chloride(PVC)
Connection Cable
Brass/Polypropylene (PP)
Foil Carrier/Protective Cap
Silicone-coated polyester
Further information
Customer assessment ⦁ Blue-Sensor Disposable Electrodes
habe bereits mehrere Sorten v. Klebeelektroden zur LZ-Ekg-Aufzeichnung ausprobiert. Blue sensor sind bei weitem die Besten. Kleben sehr gut, dadurch wenig Artefakte.
Vorteil: Haftung sehr gut, Aufzeichnung dito. Artefakte z.B. bei der Verwendung zum LZ-EKG sind minimal.
Nachteil: Haftung sehr gut und sie sind relativ groß, die Kleberückstände sind...
Produkt bezüglich Hauthaftung und Ableitungseigenschaften sehr zu empfehlen. Noch gutes Preis/Leistungsverhältniss. Bei größerer Bestellmenge lassen sich die Versandkosten minimieren.