Article successfully added.
SÖHNGEN Salvequick plaster dispenser
Dispenser box for plasters incl. basic equipment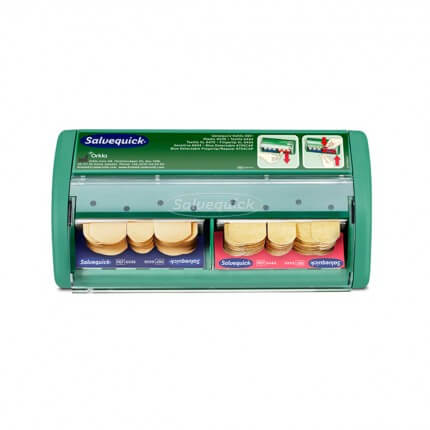 Article ID: 100487.0
Package: 1 piece(s)
Item in stock
The delivery will take place between the
07.10.2023
and
11.10.2023
Salvequick plaster dispenser from SÖHNGEN
Ideal in an emergency: The practical Söhngen Salvequick dispenser box comes with a solid basic supply of various wound plasters and offers relief when things have to move fast. The practical plaster dispenser has a transparent viewing window that also serves as a sealing flap and can only be filled and emptied with a special key.
Product details
Compact plaster box with transparent protective flap
When pulled out, one half of the plaster is pulled off directly ready for gluing
Always see the filling level at a glance
Replacement and refilling only possible with key
Reliable protection of the plasters against dust and dirt
Intuitive handling
Incl. basic equipment of plasters and special key for opening
Color: Green
Material: plastic
Dimensions: L 23 × W 12 × H 5.5 cm
Always a plaster at hand - directly ready for use
The Söhngen dispenser box for plasters has the right size of plaster immediately to hand when a wound dressing plaster is needed at short notice. Small, compact and helpful: In an emergency, simply pull one of the plasters out of the plaster dispenser - with elastic textile plasters and water-repellent plasters available. When you pull it out, one half of the release film is automatically peeled off, so the plaster is ready to stick right away.
Basic features of the Salvequick plaster dispenser
A compact plaster dispenser such as Söhngen Salvequick is indispensable in occupational safety. To ensure that the dispenser is ready for immediate use, it includes extensive basic equipment for wound care.
Refill 6444 - Salvequick elastic textile plasters
24 pcs (L 7.2 × W 1.9 cm)
16 pcs (L 7.2 × W 2.5 cm)
Refill 6036 - Salvequick water-repellent plasters
27 pcs (L 7,2 × W 1,9 cm)
18 pcs (L 7,2 × W 2,5 cm)
Scope of delivery
1 Söhngen Salvequick plaster dispenser
1 Set Refill 6444 Salvequick elastic textile plasters à 40 pieces
1 Set Refill 6036 Salvequick water-repellent plasters à 45 pieces
1 special key