Article successfully added.
Philips Child key for Heartstart FRx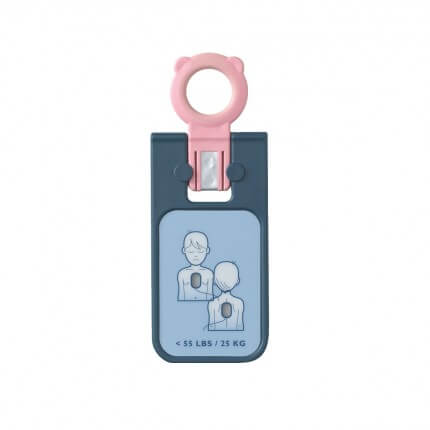 SKU: 294484
Package: 1 piece(s)
Item in stock
The delivery will take place between the
09.12.2023
and
13.12.2023
Child key for Heartstart FRx from Philips
The special child key for the Philips FRx defibrillator is required for resuscitation of a child under 25 kg weight or under eight years of age. This key allows the same electrodes to be used for adults and children, as the FRx automatically reduces the defibrillation energy. The pink key fits into the designated opening at the top center of the AED. The blue portion of the key shows the placement of the electrode pads on the infant's body while covering the adult pictogram on the device. The device also adapts voice prompts and resuscitation instructions to treat children when using the infant key.
The infant key can also be used with the HeartStart FRx Trainer or FRx AED with training pads and then simulates resuscitation of children.
Product details
Infant/child key
Fits the Philips Heartstart FRx AED and the HeartStart FRx Trainer
For infants and children under 25 kg
Automatically reduces defibrillation energy
Voice and CPR instructions are adapted to children
Allows use of regular electrodes (no pediatric electrodes required)
Graphics show correct electrode placement for infants and children


Scope of delivery
1 Philips pediatric key for Heartstart FRx