Article successfully added.
EDAN M3A Monitoring Monitor
inexpensive monitor for patient monitoring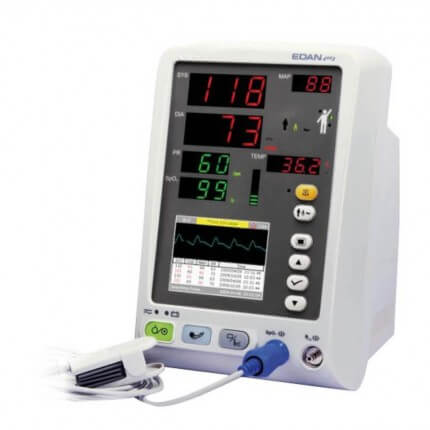 Article ID: 300125.1
Package: 1 piece(s)
Item in stock
The delivery will take place between the
02.10.2023
and
06.10.2023
M3A Monitoring Monitor from EDAN
The Edan M3A monitoring monitor serves as a "Vital Signs Monitor" for monitoring pulse rate, blood pressure and oxygen saturation. The M3A patient monitor displays the measurement parameters SpO2, NIBP and pulse as curves, tables or trend. It also has a nurse call function and a lithium-ion battery allows it to be used as a mobile patient monitor.
Product details
Mobile monitoring monitor for heart rate, blood pressure and oxygen saturation
3.5" color TFT and LED monitor
Can be used for all patient groups - neonates to adults
Tabular and graphical display of data
Freely selectable alarm threshold for each parameter
Patient monitoring over approx. 4 hours running time in battery mode
72 h trend data of all parameters
5 h SpO2 curves memory
Integrated lithium-ion battery
Large memory for 30,000 NIBP measurement results and 800 alarm events
NIPB interval: manual or 1/2/3/4/5/10/15/30/60/90/120/240/480 min
Nurse call function
Mobile or stationary use
Incl. SpO2 finger sensor for adults (cable length: 2.5 m), blood pressure cuff for adults (size: 25-35 cm)
Weight: 2.4 kg (without battery)
Optionally available with roller stand
The Edan M3A patient monitor - mobile and stationary
The Edan M3A monitoring monitor shows all vital signs at a glance and displays them in clear, graphical and tabular form. The multifunctional monitor for patient monitoring is mobile with its handy and compact form and the integrated battery for 10 hours.
Checking ECG, blood pressure and oxygen saturation is easy and precise with this multi-function monitor that can be used clinically or on an outpatient basis. A connection for nurse call and the multiple setting options and long memory time also simplify monitoring in emergency medicine and nursing.
The ability to operate the monitor for a long period of time with the integrated lithium-ion battery, even without a power connection, makes it ideal for mobile use. The background light control and standby mode help to save energy so that the battery lasts for a long time.
The version with the practical roller stand makes the monitoring monitor particularly mobile in all treatment rooms or on wards.
Technical details
Monitor resolution: 320 x 240 pixels
Lithium-ion battery: operating time up to 10 hours, charging time: 180 min.
NIBP method: Oscillometric / Modes: manual, automatic, continuous / Measuring interval in AUTO mode: 1/2/3/4/5/10/15/30/60/90/120/240/480 min. / Continuous: 5 min., interval 5 sec.
Measurement type: systolic pressure, diastolic pressure, mean value
Measuring ranges:
Adult: SYS: 40-270 mmHg / DIA: 10-215 mmHg / MAP: 20-235 mmHg
Child: SYS: 40-200 mmHg / DIA: 10-150 mmHg / MAP: 20-165 mmHg
Infant: SYS: 40-135 mmHg DIA: 10-100 mmHg MAP: 20-110 mmHg
Scope of delivery
1 Edan M3A patient monitor
1 SpO2 finger sensor for adults
1 Blood pressure cuff for adults
1 rechargeable battery
1 power cord
1 instruction manual
The product is subject to instruction in Germany according to MPBetreibV. The instruction is not included in the price.
An instruction with costs by the manufacturer is possible after arrangement. Please contact us for further information.
Return policy
This item is not eligible for returns.

For consumers, the right of withdrawal does not apply to contracts for the delivery of sealed goods that are not suitable for return for reasons of health protection or hygiene if their seal has been removed after delivery.