Article successfully added.
With headband for an optimally illuminated field of vision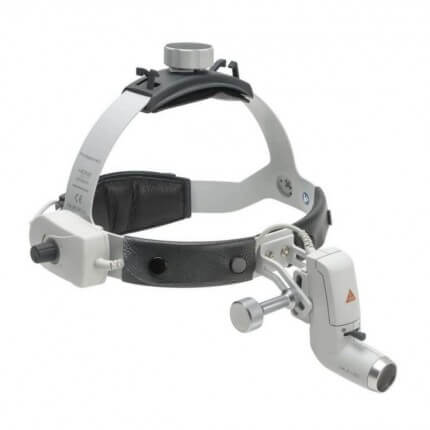 Order number: 100702.1
Package: 1 piece(s)
Delivery 11 to 14 days
You will receive your goods between the 02.09.2022 and 06.09.2022 Due to the tense situation caused by the Covid-19 eruption, there may be occasional delays in delivery.
HEINE ML4 LED HeadLight from HEINE Optotechnik
The ML4 LED HeadLight from HEINE provides homogeneous bright light to enable perfect vision during long surgical procedures or treatments. The examination area is evenly illuminated by the long-lasting LED, without disturbing reflections and shadows. Colors are reproduced particularly true to life and the user sees the colors as they are during every examination - red is red and blue is blue. The lightweight professional design of the Professional L headband, with its many individual adjustment options and comfortable leather pads, enables fatigue-free work even during long procedures.
Product details
HEINE examination light on Professional L headband
For examinations and operations, e.g. in dermatology, surgery, ENT or dental medicine
LED HQ: True-to-nature color rendering
Continuously adjustable light field size, brightness and tilt angle (up to 30°)
70 g light head
Low power consumption
Professional L head band with many adjustment possibilities in height and circumference
Optics carrier for large tilt angle
Headband regulator can be worn on right or left side
Removable leather pads
Available in various models
Further information about the mPack battery pack
ML4 LED HeadLight on Professional L headband
Power source: mPack portable battery pack with belt clip
Flexible power supply for freedom of movement
Flexible brightness control 3 - 100
Extremely long runtime
Charge level indicator of remaining operating time
Operating time: 8.5 h
Li-ion technology
Fast charging within 2 hours
Even when charged, the mPack can be used as a power source
With plug-in power supply (100 - 240 V) incl. 4 different country power plugs (EU, USA/Japan, UK, Australia)
More information about the version without power source
ML4 LED Headlight on Professional L Headband
Without power source
For connection to existing HEINE power sources (plug-in power supply, mPack, mPack unplugged)
Technical details
Illumination: Coaxial high-power LED
Illuminance: 65,000 Lux
Coaxial light with high color rendering index CRI (Colour Rendering Index)
LED operating time: 50,000 hours
Color temperature: 4,500 Kelvin
Light field diameter continuously adjustable from 30 - 80 mm (at 420 mm working distance)
Scope of delivery
1 HEINE ML4 LED HeadLight in selected version
1 Professional L headband