Article successfully added.
HARTMANN Bode Sterillium Virugard
Hand disinfection for risk areas - 100 ml bottle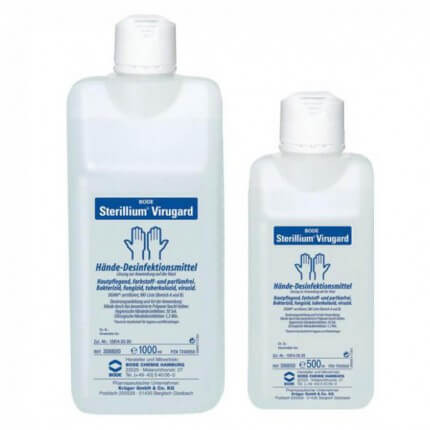 Article ID: 155184
Package: 0.1 l
Item in stock
The delivery will take place between the
07.10.2023
and
11.10.2023
| Quantity | Price per unit | Price per unit (gross) | Reference price | Reference price (gross) |
| --- | --- | --- | --- | --- |
| To 44 | €2.15 | €2.56 | €21.51 / 1 l | €25.60 / 1 l |
| From 45 | €2.00 | €2.38 | €20.00 / 1 l | €23.80 / 1 l |
Bode Sterillium Virugard from HARTMANN
BODE Sterillium Virugard is the first alcohol-based hand disinfectant on the list of the Robert Koch Institute according to § 18 of the German Infection Protection Act (IfSG). Virugard hand disinfection can also be used for disinfection before simple injections and punctures of peripheral vessels, for skin disinfection before operations and before punctures of joints, as well as for disinfection of skin rich in sebaceous glands and for cooling wraps. Especially in such areas with an increased risk of infection, hand hygiene and hygienic disinfection of the treated skin areas are of the utmost importance.
Product details
Alcohol-based hand disinfectant belonging to the RKI list according to § 18 of the German Infection Protection Act
Short application time
Filtered free of spores
Broad spectrum of activity: Bactericidal (incl. TbB, MASA), fungicidal, limited virucidal (incl. HBV, HIV, HCV, vaccinia and rotavirus), herpes, influenza A, H5N1 (bird flu virus), H1N1, H3N2 (swine flu virus), SARS virus, adeno-, papovavirus
RKI recommendation for noroviruses
Very good skin compatibility
Dries quickly and is residue free
Free of dyes and perfumes
Phenol free and quat free
Available in different pack sizes
Highly effective disinfectant for every situation
The hand disinfectant Sterillium Virugard offers special safety when handling patients whose virological status has not yet been determined accurately, for example:
In ambulances and patient transport vehicles
In casualty departments and outpatient clinics
In the event of an outbreak of viral infections in communal facilities
Due to its excellent efficacy and short application times to keratoconjunctivitis epidemica, the use of Sterillium Virugard hand disinfection is recommended for ophthalmological procedures in hospitals and doctor's offices.
Sterillium Virugard – The details
The Sterillium Virugard hand disinfection is included in the RKI list in the areas of action A (bacteria and fungi) and B (viruses), which documents its exceptional performance.
In accordance with § 18 IfSG, it should be used in case of notifiable diseases and officially ordered decontaminations, also when non-enveloped viruses occur, which are difficult to disinfect.
Sterillium Virugard is the first alcohol-based hand disinfectant with this comprehensive performance and listing. Due to its exceptionally broad spectrum of activity, Sterillium Virugard is suited primarily for all areas of work with an increased risk of infection, such as:
Infection and isolation units
Intensive care units
Transplant departments
Transfusion and dialysis departments
Microbiological and genetic engineering laboratories
Intended use
Hand disinfectant
Package contents
1 pack of Bode Sterillium Virugard in the selected size
Pictogram:
Signal word:
Danger

Hazard warnings:
H225 – Highly flammable liquid and vapour.
H412 – Harmful to aquatic life with long lasting effects.

Safety instructions:
P102 – Keep out of reach of children.
P210 – Keep away from heat, hot surfaces, sparks, open flames and other ignition sources. No smoking.
P233 – Keep container tightly closed.
P273 – Avoid release to the environment.
P305+P351+P338 – IF IN EYES: Rinse cautiously with water for several minutes. Remove contact lenses, if present and easy to do. Continue rinsing.
P337+P313 – If eye irritation persists: Get medical advice/ attention.
P370+P378 – In case of fire: Use… to extinguish.
P501 – Dispose of contents/container to …

Return policy
This item is not eligible for returns.

For consumers, the right of withdrawal does not apply to contracts for the delivery of sealed goods that are not suitable for return for reasons of health protection or hygiene if their seal has been removed after delivery.
Note on delivery
This article is not available in all countries due to legal regulations.