Article successfully added.
B. Braun Vasco Nitril white gloves
Powder-free examination gloves with online chlorination - Size XS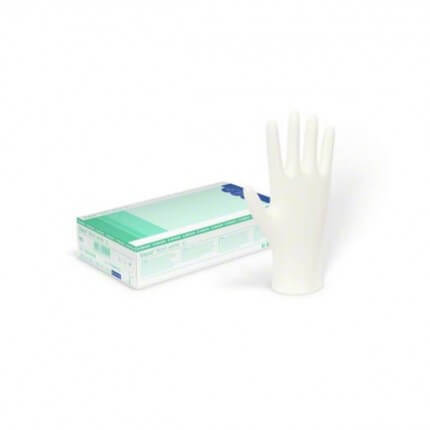 Article ID: 112623
Package: 100 piece(s)
instead of

€6.84
(€0.05 / 1 piece(s))
instead of

€5.75
(€0.04 / 1 piece(s))
Item in stock
The delivery will take place between the
30.09.2023
and
05.10.2023
Vasco Nitril white gloves from B. Braun
The Vasco Nitril white examination gloves are disposable medical gloves according to EN 455 and approved for contact with food. These robust examination gloves from B. Braun are made of allergen-free nitrile rubber and offer an optimal combination of wall thickness and barrier properties. The finger surfaces are micro-roughened and provide a secure grip. The disposable gloves are tested for use with chemicals and microorganisms and have excellent barrier properties.
Item details
Examination and protective gloves
Resistant to many chemicals and microorganisms
Suitable for contact with food
Shape straight fingers, ambidextrous
Micro-rough surface with textured fingers
Range of application: doctor's offices, care field, laboratories, chemicals, foodstuffs
Regulations/Quality standards:

- Class I medical device according to MDD 93/42/EEC
- EN 455 1-4, ISO 11193-1, ASTM D6319, ASTM F 1671
- Category III personal protective equipment CE 0321 (SATRA, UK) according to 89/686/ECC
- EN 420, EN 374 3, EN 16523-1; ASTM D6978
Quality certificates ISO 9001, ISO 13485
Suitable for food contact according to 1935/2004/EEC

Material: nitrile butadiene rubber (NBR), accelerators: Zn-dithiocarbamate, Zn-mercaptobenzothiazolate
Surface treatment: online chlorinated (inside)
Colour: white
Powder free
Protein and latex free
Free of thiurams - including mercaptobenzothiazole MBT
Length: ≥ 240 mm
Width: XS ≤ 80 mm / S 80 ± 10 mm / M 95 ± 10 mm / L 110 ± 10 mm / XL ≥ 110 mm
Non-sterile
Available in various sizes
Physical properties
Tightness value: AQL 1.0
Thickness (palm): ≥ 0.05 mm
Thickness (fingers): ≥ 0.08 mm
Strength at break (before ageing): ≥ 6 N
Elongation (median before ageing): ≥ 500 %
Tensile strength (median before ageing): ≥ 14 MPa
Package contents
1 pack o B. Braun Vasco Nitrile white examination gloves containing 100 / 90 pieces in the desired size
| | |
| --- | --- |
| DocCheck Shop Deal: | DocCheck Shop Top Deal |