Article successfully added.
Hygienic reusable silicone dust band with magnetic closure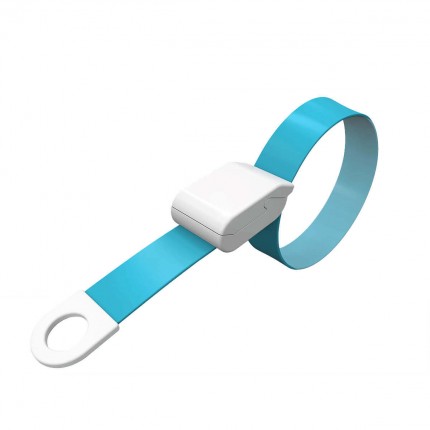 Article ID: 123053
Package: 1 piece(s)
Item in stock
You will receive your goods between the
09.06.2023
and
13.06.2023
Vein tourniquet from daisygrip
The revolution for routine blood collection and intravenous access - the daisygrip one-handed tourniquet enables the highest hygienic standards and combines them with intuitive handling and innovative design.
Product details
Hygienic vein tourniquet for blood collection or intravenous accesses
Known from the "lion's den
Intuitive use with self-finding magnetic closure
Easy to disinfect
Low in germs after 30 seconds
Skin-friendly material
Smooth surface
Latex-free
Reduces the risk of infection through germ transmission and germ colonization
Sustainable reduction of effort and costs
Hygienic standards redefined
Up to now, routine blood collection has not met the hygienic requirements of practices and clinics - cleaning a traditional tourniquet with cotton and elastane tourniquet is costly and time-consuming. It is therefore hardly possible in everyday work to clean the tourniquet hygienically before each new patient. Daisygrip revolutionizes routine blood collection in practices and clinics! Thanks to its smooth surface, the vein tourniquet made of skin-friendly silicone can be cleaned quickly and hygienically and is thus explicitly intended for multiple use. The tourniquet's tourniquet tube and closure can be easily cleaned with commercially available disinfectants such as skin, hand or surface disinfectants. Alternatively, disinfectant wipes can also be used. The smooth surface can be wiped clean effortlessly and thoroughly. Just 30 seconds later, the material is dry and the tourniquet can be used again for the next blood collection. This means that disinfection can be carried out effortlessly before each new use.
The venous tourniquet offers microbiologically tested hygiene: compared to traditional tourniquets, there is demonstrably less germ transfer between patients with daisygrip. The daisygrip one-handed venous tourniquet can therefore significantly reduce the risk of infection through the transfer and colonization of germs. The time-consuming autoclaving process is not necessary with the daisygrip tourniquet. Compared to disposable solutions, this product is an ecological alternative. In this way, you also sustainably reduce time and personnel expenditure and costs in your practice or clinic. Hygienic blood collection redefined - with the daisygrip tourniquet you buy a safe and hygienic alternative to traditional tourniquets.
daisygrip tourniquet - Innovative design and skin-friendly material
With the daisygrip tourniquet - known from the start-up show "Die Höhle der Lö wen" - you buy an innovative vein tourniquet whose design has even been awarded the Red Dot Design Award. The effortless application is convincing: The tourniquet can be opened and closed quickly and reliably, even with one hand. The self-finding magnetic closure makes handling particularly easy and intuitive. The tourniquet's tourniquet is made of skin-friendly, DEKRA-certified material. On the one hand, the latex-free silicone enables simple, thorough disinfection thanks to its smooth surface. On the other hand, it prevents pinching and constriction of the skin, which quickly occurs with commercially available tourniquets with fabric straps. Your patients will appreciate the hygienic and comfortable examination!
Scope of delivery