Article successfully added.
Disposable instrument with continuous knurled adjustment screw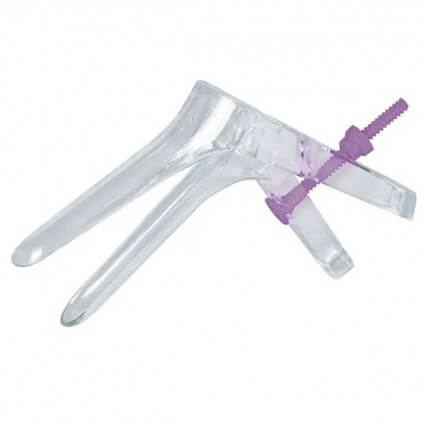 Article ID: 600202.0
Package: 25 piece(s)
Item in stock
You will receive your goods between the
06.04.2023
and
12.04.2023
Plastic Vaginal Specula from Mediware
Handy, lightweight plastic specula for the perfect examination
A decisive advantage when it comes to plastic specula: the plastic speculum from Servoprax does not need to be warmed up or sterilized before the examination. Ready for immediate use, the speculum enables a thorough visual examination of the vagina and cervix. With the help of the plastic vaginal speculum, sterile swabs of the cervix can be taken, and sterile insertion of other instruments into the uterus is also possible in this way.
Plastic vaginal specula
Individually sterile packed
Hygienic and safe
Can also be used in case of allergies
No warming up before use
Disposable instruments - no sterilization required
Flexible - can be locked in different positions
In practical dispenser box
Vaginal specula available in different sizes
The plastic vaginal speculum - a gold handle
The word "vaginal speculum" goes back to the Latin "speculum", which means "mirror". As is well known, a mirror is the name given to many instruments, whether single-use instruments or instruments for repeated use. A variety of different specula are available for inspecting the vagina, cervix and portio. Relatively new, however, is the plastic vaginal speculum. Not only do you get an ordinary plastic instrument, but an instrument that is in no way inferior to its metal counterparts. Each vaginal speculum is individually packaged and sterilely sealed. This way, you increase safety when using the instruments. Since you receive a larger pack of vaginal specula in the DocCheck Shop, you always have the right instrument in stock.
Use with the vaginal speculum - particularly handy
The plastic specula are not only sterile in advance, but are also pleasantly light in the hand. This is an advantage if you do not need a speculum weighted down with weight. The plastic vaginal speculum is available in different sizes from XS to L, so that the right instruments are at hand depending on the patient. In no time at all, the products are freshly taken out of the packaging and immediately ready for use.
Scope of delivery
25 plastic vaginal specula in the selected size
Return policy
This item is not eligible for returns.