Article successfully added.
HARTMANN Peha-instrument Anatomical forceps according to Adson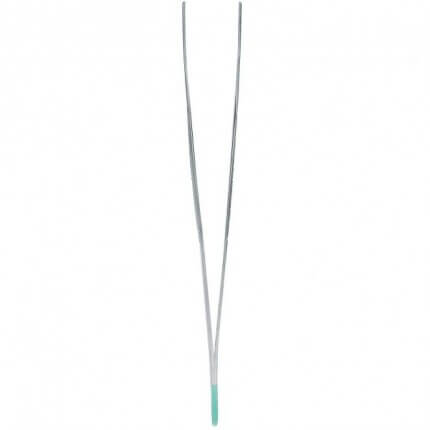 Article ID: 110644
Package: 25 piece(s)
Item in stock
The delivery will take place between the
30.09.2023
and
05.10.2023
Peha-instrument Anatomical forceps according to Adson from HARTMANN
The Hartmann Peha-Instrument Anatomical Forceps corresponds to the Adson design in this version as a disposable instrument. Adson forceps are narrow and finely tapered. The gripping surface of the Adson anatomical forceps is grooved in the front area of the forceps legs, so that the disposable forceps lie well in the hand and the hands of the instrument user do not slip off, even with damp gloves.
Peha-instrument Anatomical forceps according to Adson - At a glance
Disposable instrument made of brushed steel - especially hygienic
Length: 12 cm
Type: according to Adson
Individually labeled - facilitates documentation
Green labeling prevents mixing with reusable instruments
Sterilely packed
5 years shelf life
Peha-instrument Anatomical forceps according to Adson - The details
The anatomical forceps are characterized by the fact that they are generally blunt and cross-grooved in the working part. This means that the blunt anatomical forceps must be squeezed particularly hard if tissue is to be grasped and also held. If the tissue is now held with anatomical forceps, the material structure is squeezed. As a result, these forceps are not suitable for very fine, delicate vessels. However, the very narrowly tapered forceps are definitely made for gripping without great pressure. This makes them suitable for gripping without traumatizing. Tapered anatomical forceps therefore offer a way of working in visceral surgery without the use of atraumatic forceps.
Hartmann's Adson anatomical forceps are disposable instruments. Hartmann Peha instruments offer many advantages. The sterile individual packaging reduces the effort required for cleaning, disinfection, sterilization, packaging and personnel. The use of single-use instruments also prevents cross-contamination and guarantees maximum hygiene. The single use and accurate labeling of surgical instruments makes medical documentation much easier.
Contaminated disposable instruments can be collected and disposed of in the same way as commercially available reusable instruments. The plus: steel is recyclable!
Scope of delivery
25 Peha-instrument anatomical forceps according to Adson
Return policy
This item is not eligible for returns.

For consumers, the right of withdrawal does not apply to contracts for the delivery of sealed goods that are not suitable for return for reasons of health protection or hygiene if their seal has been removed after delivery.