Article successfully added.
KERN OBL 125 Transmitted light microscope
With Infinity optics & fixed-precentered Köhler illumination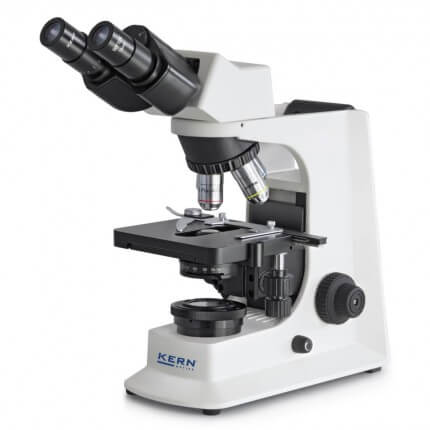 Article ID: 102635.0
Package: 1 piece(s)
Delivery 7 to 10 days
The delivery will take place between the
13.10.2023
and
17.10.2023
OBL 125 Transmitted light microscope from KERN
The KERN OBL 125 binocular transmitted light microscope is suitable for translucent, challenging specimens in laboratory applications and education. The high-quality microscope provides excellent views of living cells, bacteria and tissue in microbiology and medicine. The special grind of the Infinity E-Plan objectives allows sharp focusing to infinity. The fixed-precentered and focusable Abbe condenser with aperture and field diaphragm also allows simplified Köhler illumination without center adjustment. A large mechanical stage can hold up to two specimens at a time and can be finely adjusted by the double-sided drive.
Product details
Transmitted light microscope for transparent specimens
Binocular design for laboratory and education
Applications in hematology, urology, gynecology, dermatology, pathology, microbiology and parasitology, immunology, oncology, entomology, veterinary, sewage treatment plants, water analysis
Ball bearing mounted 4-position nosepiece
Large mechanical stage for up to two slides
Coaxial coarse and fine drive on both sides with scale (2 μm)
Incl. dust cover and eyecups
Dimensions: W 395 × D 200 × H 380 mm
Weight: 6.7 kg
Technical details
Objective lenses:
- 4 x / 0.10 / working distance 12.1 mm
- 10 x / 0.25 / working distance 2.1 mm
- 40 x / 0.65 (spring loaded) / working distance 0.58 mm
- 100 x / 1.25 (oil) (spring loaded) / working distance 0.19 mm
Objective lenses: Infinity E-Plan (infinity corrected)
Optical system: ABBE 1.25 pre-centered (with aperture diaphragm and numerical aperture)
Illumination: 20 W halogen
Siedentopf: 30° inclined, 360° rotatable
Eyepieces: High-widefield, 10x magnification, Ø 20 mm
Dioptric compensation: one-sided
Scope of delivery
1 KERN OBL 125 transmitted light microscope binocular
2 eyecups
1 dust cover
1 power supply unit