Article successfully added.
With 140,000 lux & electronic focusing - wall model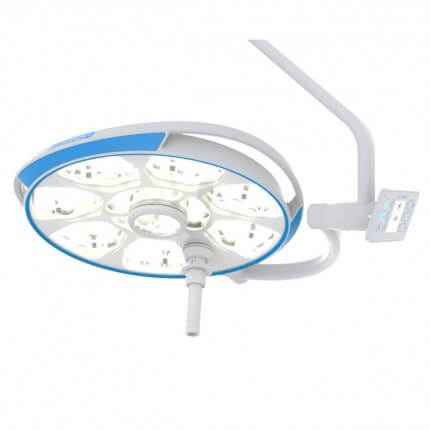 Article ID: 102013.2
Package: 1 piece(s)
Goods in the inlet. Delivery time longer than 8 weeks.
Surgical light LED 6MC from Dr. Mach
The robust LED 6MC surgical light from Dr. Mach impresses with intuitive operability and modern additional functions. The total of 69 powerful LEDs achieve a combined illuminance of up to 140,000 lux. The light cone can be focused precisely on the surgical field using the hygienic handle. In addition, the brightness and color temperature can be individually and continuously adjusted via the integrated control panel - including switchable depth light. The flexible handle joints ensure a large working range with an adjustable height between 70 and 160 cm - with minimal heat radiation even when used continuously. In addition, the Dr. Mach LED 6MC surgical light has a special endoscopy mode with green light, which reduces annoying reflections on medical monitors during minimally invasive surgery (MIS) and prevents natural eye fatigue.
Please note: To mount Dr. Mach surgical ceiling lights, the appropriate Dr. Mach TK 270 anchoring ring is required.
Product details
Professional surgical lamp with powerful LED technology
Suitable for fixed wall or ceiling mounting
Particularly high illuminance
Dimmable for infinitely variable brightness control
Electronic focusing for optimal illumination
Integrated rotating ring for quick manual adjustment of color temperature, brightness and other functions
Endoscopic mode with green light especially for minimally invasive surgery (MIS)
Cone-shaped light field with individually adjustable diameter
With switchable depth light
Flexible support arm system with 2 joints
Removable, sterilizable handle for precise alignment
Minimal heat radiation of only 0.5 °C even during prolonged operation
Intuitive control panel with hygienic membrane keypad
Durable workmanship in modern design
Medical device in accordance with Directive 93/42/EEC Annex IX
Material housing: aluminum
Diameter panel: 58 cm
Weight: 16.9 kg (without support arm system)
Available in different versions
Technical details
Integrated on/off switch
Illuminant: 69 LEDs
Brightness: up to 140.000 Lux (1 m distance)
Color temperature: 3,750 - 4,750 K
Color rendering index: 98 (CRI/Ra)
Dimming range: 5 - 100
Light field size: ⌀ 18 - 30 (focusable)
Working range: ↕ 70 - 160 cm
Height adjustability: 118 cm
Minimum room height: 290 cm
Protection class: IP54 (illuminant) or IP20 (support system)
Power consumption: max. 72 W
Input voltage: 110 - 230 V (AC)
Service life: ≥ 60,000 hrs. per LED
Scope of delivery
1 Dr. Mach surgical light LED 6MC in the selected version
Return policy
This item is not eligible for returns.