Article successfully added.
With 9 plastic drawers adjustable in height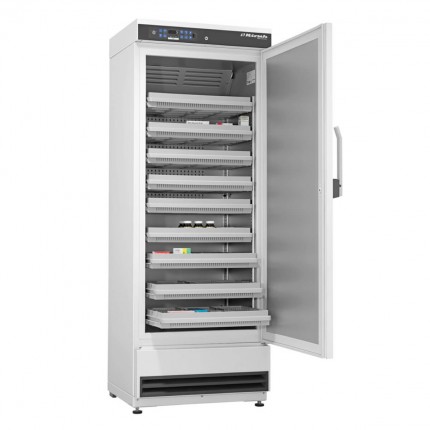 Article ID: MED-340
Package: 1 piece(s)
Goods in the inlet. Delivery time longer than 8 weeks.
MED 340 Pro-Active refrigerator from Kirsch
The medication refrigerator MED 340 Pro-Active offers you the best storage for medications and vaccines with PRO-ACTIVE control. This permanently monitors the performance and triggers an alarm in case of deviations or power failure. The temperature is also constantly controlled.
MED 340 Pro-Active - At a glance
Medicine refrigerator according to DIN 58345
9 height adjustable drawers
Pro-Active control
Recirculating air cooling
Optimized air baffles for minimal temperature differences in the interior
Automatic defrosting and defrost water evaporation
Digital LED temperature display
Minimum/maximum temperature memory
Safety device against minus temperatures
Lockable door
Outside dimensions incl. wall clearance: W 67 x D 63 x H 181 cm
Interior dimensions: W 53 x D 45 x H 128 cm
Usable dimensions: W 53 x D 40 x H 128 cm
External dimensions with door open 90°: W 67 x D 121 cm
Clear drawer dimensions: W 50 x D 32 x H 5.6 cm
Maximum drawer load: 16 kg
Weight: 98 kg (net) / 110 kg (gross)
Cooling capacity: 330 l
Available in different versions
MED 340 Pro-Active - The details
The MED 340 Pro-Active has a Pro-Active control system. Thereby the performance is constantly monitored. As soon as there are deviations or a power failure, both a visual and an acoustic alarm signal is triggered. The refrigerator contains a free contact that can be used for connection to remote alarm systems. The Pro-Active control also regulates the constant temperature display. Defrosting is performed automatically for maximum temperature constancy. There is also a safety device against sub-zero temperatures. The refrigerator contains 9 height-adjustable drawers, which are stored on roller drawer slides with locks. Each drawer contains two adjustable longitudinal and nine adjustable cross dividers.
MED 340 Pro-Active with special equipment - The details
The MED 340 Pro-Active refrigerator is also available with additional special equipment. In this case, the refrigerator has a GSM module, which can forward alarm messages via SMS. The alarm limits can be set by the included software. In addition, the refrigerator has a LED light bar and is mobile.
Technical details
Temperature setting: approx.+2 to 20 ° C
Voltage: 220 - 240 V
Frequency: 50 Hz
Power consumption: 108 watts
Normal consumption: 0,67 KW / 24 h
Scope of delivery
1 Kirsch MED 340 Pro-Active in the selected version
MED 340 Pro-Active in Standardausführung
Der MED 340 Pro-Active verfügt über eine Pro-Active-Steuerung. Dabei wird die Leistung stetig überwacht. Sobald es Abweichungen oder einen Stromausfall gibt, wird sowohl ein optisches, als auch ein akustisches Alarmsignal ausgelöst. Der Kühlschrank enthält einen freien Kontakt, der für den Anschluss an Fernwarnanlagen genutzt werden kann. Die Pro-Active-Steuerung reguliert auch die konstante Temperaturanzeige. Die Abtauung wird automatisch durchgeführt, für eine maximale Temperaturkonstanz. Es gibt ebenfalls eine Sicherheitsvorrichtung gegen Minustemperaturen. Der Kühlschrank enthält 9 höhenverstellbare Schubfächer, welche auf Rollschubführungen mit Arretierung lagern. Jedes Schubfach enthält zwei verstellbare Längs- und neun verstellbare Querteiler.
Technische Details
Digitale LED-Temperaturanzeige
Pro-Active-Steuerung zur permanenten Überwachung der Leistungsdaten
Zuverlässige Alarmierung bei Temperaturabweichungen
Minimum-/Maximum-Temperaturspeicher
Integrierter USB-Port für Datenauslesung
Potentialfreier Kontakt (RJ-45 Buchse) zum Anschluss von Fernwarnanlagen
Temperatureinstellung: +2 bis +15 °C
Temperaturreglung: 2 PT-1000 Temperaturfühler
Spannung: 220 - 240 V; 50 Hz
Leistungsaufnahme: 108 Watt
Normalverbrauch: 0,82 KW / 24 h
Lieferumfang
1 Kirsch MED 340 Pro-Active Medikamentenkühlschrank in Standardausführung
Further information