Article successfully added.
schülke Disinfectant dispenser KHK 1000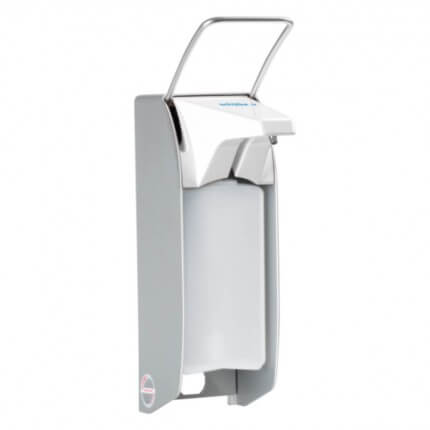 Item in stock
The delivery will take place between the
07.12.2023
and
11.12.2023
Disinfectant dispenser KHK 1000 from schülke
The KHK 1000 disinfectant dispenser from schülke can be filled with hand disinfectant, wash and care lotion in 1,000 ml disposable bottles. The dispenser is easy to attach and is also dishwasher safe. The dispensing stroke can be adjusted individually - from approx. 0.75 to 1.5 ml. The dispenser is easy to operate with the help of the arm handle. The KHK 1000's replaceable pump ensures an unrestricted flow of preparation without dripping or clogging.
Product details
Suitable for liquid soaps, alcohol-based hand disinfectants and lotions
Simply insert the soap or disinfectant container into the dispenser
Meets the requirements of the employers' liability insurance association
Workplace ordinance for direct dispensing of products
Bacteriostatic - inhibits the growth and multiplication of bacteria
For 1000 ml Euro bottles
Material housing: anodized aluminum
Dispenser is dishwasher safe up to 60° C
Dimensions: L 16 x W 9,2 x H 29 cm
Volume: Approx. 0.75 - 1.5 ml per stroke
Version with plastic pump: Straight suction tube, adjustable dosage (approx. 0.7/ 1.0/ 1.2 ml), dishwasher safe 60° C
Version with stainless steel pump: Cranked suction tube, adjustable dosage (approx. 0.75/ 1.0/ 1.2/ 1.5 ml), dishwasher safe 60° C, autoclavable 134° C, 2 bar
Scope of delivery
1 schülke disinfectant dispenser KHK 1000 in the selected version
A disinfectant bottle is not included in the scope of delivery.